Who is she?
At barely 13 years old, Ashley Gearing had broken a major record in country music - she became the youngest female artist to have her debut single go Top 40!! That song was "Can You Hear Me When I Talk to You," a ballad Ashley herself didn't write, but one that was very personal to her. Though she's very close to her step-father, Ashley lost her biological father to a serious illness when she was only ten months old; thus gave her the emotional attachment she needed to deliver the song with complete sincere conviction. The video for it garnered rotation on GAC. Since then, Ashley has contributed songs to various movie soundtracks and music compilation CDs.
In 2004, Ashley was invited to sing the National Anthem to kickoff every home game the Red Sox played at the famed Fenway Park in her homestate of Massachusetts (the Red Sox eventually took home the World Series title later that year!) Whether performing locally or on the stage of the Grand Ole Opry, she continues to captivate audiences with her big voice and charming charisma.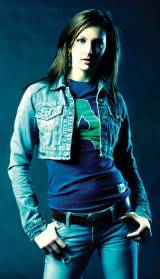 What has Ashley been up to?
Here's a note from Ashley (dated December 16, 2007):

Well it's about that time, I can't believe it but the Holiday season is already among us. I'm soo excited for Christmas. I'm home in Massachusetts and we just got 2 huge snow storms and everyone's out sledding and making snowmen. I love it! I'm sure the skiing conditions are great. I'm also learning how to drive in this icy and snowy wheather since it is my first winter with my license. It's really an exciting time. I'm on winter break now from school after a long stressful week of exams and now I just need to focus on spending time with family and friends and..Christmas shopping! (Haven't really started yet, and I don't have much time) I would love to have feedback on how everyone's Holiday season is so far! I wish everyone and their family the best this Holiday.
Keep checkin' in for some new updates on music and more! Thanks so much for the support!
Warm Wishes,
Ashley


CONGRATULATIONS to Ashley, who has signed with Curb Records, (also home to superstars LeAnn Rimes, Rodney Atkins, and others)!!!!
At 16 years of age, she is already a veteran of the music business. Ashley made history when she was just twelve years old as her debut single, "Can You Hear Me When I Talk To You," entered Billboard's Hot Country Singles chart, eclipsing a 46 year-old record previously held by Brenda Lee.
Curb Records Sr. VP/General Manager, Dennis Hannon, is excited about the label's newest talent, "Ashley is a triple threat: young, talented and beautiful, I think she's got a long successful career ahead of her and I'm thrilled that she's part of our Curb family."
Ashley has spent that last few years honing her songwriting and guitar skills. She's received ASCAP's "Uncut Diamond" award as a future Country rising star, performed numerous times on the famed stage of the Grand Ole Opry, and was voted Best Female Country artist in a New Country Artist poll in 2006.
Celebrated producer, Byron Gallimore, has been working with her in the studio. Gallimore has produced numerous hits with Tim McGraw, Faith Hill, Jo Dee Messina and several other successful artists. Ashley's first Curb release is slated for early 2008.

Children and adults will enjoy Ashley's "If You Can Dream" on the Disney's Princess Ultimate Song Collection album, which is available in stores now!!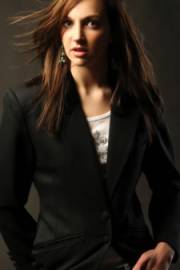 Did y'all know?!
** Ashley sparked a media buzz with her debut single, "Can You Hear Me When I Talk to You?" when she was only 12. Apart from the song's intrinsic appeal, the big deal is that enabled Gearing to become the YOUNGEST solo artist ever to appear on Billboard country charts. (Brenda Lee held that record for 46 years. She, too, was 12 when she charted in April 1957 with "One Step at a Time." But Lee was a bit closer to 13 than Gearing was when she made her entry. Tanya Tucker was 13-plus in 1972 when she made her bow with "Delta Dawn," and LeAnn Rimes was three months shy of 14 when she first blew into the charts in 1996 with "Blue.")






Where can I buy her music?
Make sure to check out Ashley's debut album Maybe It's Time - available now!! Also available is Ashley's CD single, which features "Can You Hear Me When I Talk To You?" and "I'm the Girl". Pick up YOUR copies of Ashley's music by clicking on each respective CD cover!!!!


Does she have an official website?