By: Estella Pan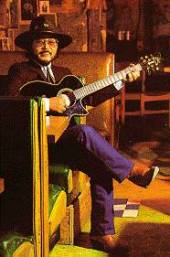 Charlie at world-famous Tootsie's in Nashville
Spreading "global peace through country music" is a job that Charlie Nagatani takes very seriously! In fact, Charlie, who will turn seventy this February 20, has become somewhat of a phenomenal icon in country music, not only to his homeland of Japan, but throughout the world. At the age of twenty, he joined a band called "Speedy Kido & Hillbilly Jamboree" as a singer. Five years later, he formed his own called "Charlie and the Cannonballs" and began touring American military bases located in Japan. From there, they went on to tour military bases in Okinawa, Taiwan, the Philippines, Thailand and Guam Island, especially during the years of the Vietnam War. Since forming, Charlie and the Cannonballs have been bringing country music to the masses for over five decades! Recently, I had the privilege to interview Charlie and when I asked if being a country singer was something he has always considered, he replied: "Yes, when I first listened to country and western music on my 20th birthday, I made up mind to be a country music singer. I quit college and [put together "Charlie and the Cannonballs"] and it was 1956. For fifty years now, I am living with this great music from morning til night. I can't live without it. I don't need anything but country music. I really thank God [for] this wonderful music."

Though not his given name, he became known as "Charlie" early on in his life. He recalls the story behind his nickname: "When I joined [my first band], I followed them to Iwakuni, a US Marine Corps Air Station base in Iwakuni (We still go there to perform). And, the first night when we played there, I was given the nickname 'Charlie' by servicemen; so, since that day, everyone started to call me Charlie." He jokes that "for fifty years, I haven't use my first name so I have almost forgotten it!!"

One thing that fans won't forget anytime soon is the impact Charlie has had in the country music world. Besides singing and performing, he also found time to open his own country music saloon in 1967; the place, called Good Time Charlie's, continues to thrive today. [The establishment recently celebrated its 30-year anniversary.] Charlie says, "I really wanted to let Japanese people know how wonderful country music is, with its simplicity, sincerity, and sadness. I wanted to talk with my fans about the United States of America, especially how I met a lot of good-hearted servicemen. I'm very proud of my club, where all my beautiful memories are packed with country music."
Charlie entertains Country Gold festival go-ers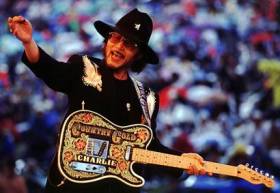 Check out his ultra-cool Country Gold guitar!!
Among those "beautiful memories" and lengthy list of recognized accolades are: being named "Honorary Citizen" from Tennessee as well as in thirty-two other states, being invited by former President Clinton to the State Dinner at the White House in 1999, and given the distinguished Jim Reeves Memorial Award in 2005. Not to mention that he and his band have graced the stage of the Grand Ole Opry a total of fifteen times since 1985!! Then, there's Country Gold, an annual outdoor festival he organized in 1989; since, he has hosted this event which takes place at Aspecta in the world-famous Mt. Aso, a Kumamoto prefecture. Each year, four or five acts take the stage, drawing crowds of over 20,000 country music fans from all over Japan! (Blue County, Charlie Daniels, Toby Keith, Brad Paisley, Trick Pony, Darryl Worley, and many others have taken part in this festival.) Charlie informs me that "Gates open at 9:00 AM. The shows start at 12:00 noon and close at 6:30 PM." He expresses deep gratitude to Judy Seale, stating that she has "been helping me to hold this great festival from the start. This couldn't make it without her."
[NOTE: Judy is the president of Judy Seale International and Stars for Stripes]
.
Charlie is also the mastermind behind Country Sunshine. I asked him to explain what it is: "I opened Country Sunshine in 1994 at Civic Hall in my hometown Kumamoto City. I [got the idea after receiving] a hard core country music fan's request, telling me they couldn't wait for a whole year for Country Gold." He says that since he couldn't do two big festivals each year, he "decided to hold it at an inside venue – 1,800 seats – in the spring. And the guest artists are always female singers. This coming April 1 will be thirteen times."
Cover shot of Charlie's book
Those interested in Charlie's life story could check out his new book, My Name is Good Time Charlie, which released last November. But, there might be one slight problem if you haven't studied Japanese, considering the fact that the entire book is written in his native language. Even though Charlie apologizes to those who "can't read it," he does promise that "you can see my many pictures from when I was baby to now." [NOTE: The book's title is taken from a song with the same name, which was written by Nashville's Michael Woody. Charlie says it's "my first and only original song about my life." He has been performing it since 1992.]

I wanted to know if, throughout his extensive career, Charlie had a specific memory that he holds close to his heart. He reflects, "I can't pick which is the best memory because everyday, I'm living with my family and I'm lucky to be supported by a lot of country music fans. I have no greed if I can keep singing for as long as I live." So then, are there any specific places where he would like to take his live shows? "I always think in my mind that we can have global peace through country music. I was born and raised in a small city in Japan and country music changed my life. I can't express how happy I've been [listening to country music]. So if everyone would listen we'd put an end to war. My band and I will go everywhere we have the chance."

For updates on Charlie Nagatani and his Country Gold Festivals, please visit: