6th Annual Reading, Writing, and Rhythm Benefit Concert
Tuesday, June 6, 2006

By: Estella Pan
Ty Herndon surprised

fans at Chely's event.
Chely chats w/ Bryan White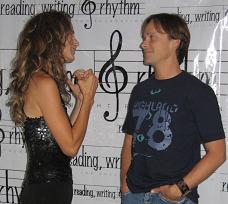 after the press conference
What inspired you to start Reading, Writing, and Rhythm? Do you know how many schools have been affected by your efforts in the last six years? Those were among the various questions Chely Wright addressed in a press conference prior to hosting her 6th Annual Reading, Writing, and Rhythm Benefit Concert, an charity event and fan club party rolled into one fabulous evening of sharing great music. This year's bill boasted the musical talents of Jason Aldean ("Why"), Keith Anderson ("Everytime I Hear Your Name"), Little Big Town ("Bring It On Home"), Julie Roberts ("Men and Mascara"), Bryan White ("You Can't Go Back"), and Wynonna Judd ("Attitude"). Chely's good friend, Ty Herndon ("Steam"), also made a surprise visit during the successful evening.
Chely among troops in Iraq.
Before jumpstarting Reading, Writing, and Rhythm, Chely had long put her humanitarian spirit to good use, making numerous trips overseas to share her music with our service men and women, for more than ten years. She says each journey has impressed upon her as being "a perfect hybrid of appreciation, humility and humanity," and that's the reason she continues to go back. "It makes my life seem valuable in ways that I couldn't otherwise achieve." Her grandfather served in the Army during World War II and her brother, Marine Corps Gunnery Sgt. Christopher Wright, has been serving in the Marines for over fifteen years.] Both men are mentioned in her self-penned and deeply personal single, "Bumper of My S.U.V.," in which she also mentions some of her journeys overseas and expresses the importance of supporting our troops:
Chely in the cockpit of a C-130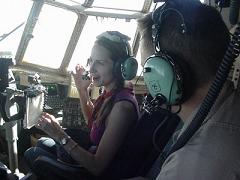 flyer en route into Baghdad.
"I've been to Hiroshma/And I've been to the DMZ
I've walked on the sand in Baghdad/Still don't have all of the answers I need."

"So I hope that lady in her mini-van turns on her radio and hears this from me.
As she picks up her kids from their private school,
And drives home safely on our city streets.
Or to the building where her church group meets:
Yeah, that's why I've got a sticker for the US Marines
On the bumper of my S.U.V."
Chely answers questions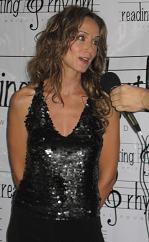 at the press conference
Having held her benefit concert the Tuesday of CMA Music Fest/Fan Fair for the last six years, Chely's events have become the popular "unofficial kickoff" party to the rest of the week, drawing sold out crowds every year. At 6:45 PM sharp on the evening of Tuesday, June 6, 2006, various press venues gathered in the VIP room at the Wildhorse Saloon to ask their questions and for photo opportunities. Throughout the conference, it was clear that it's Chely's own musical passions and personal experiences are what fuel her to continue affecting other people's lives in a positive way. Though Chely doesnvt have a single climbing the charts currently, she knows that you don't have to have superstar status to make some very big waves. Compiled below are her answers to insightful questions:

What inspired you to start Reading, Writing, and Rhythm?
Chely: It was born from a conversation that I had with my best friend Chuck, a finance guy on Wall Street. The day the Columbine school shootings happened, I was as riveted as anyone else was. It had always been my dream as a country artist to do a charity of my own. But, you get caught up in your life and career that you never really get around to it. That event, that day [NOTE: The Columbine shootings took place April 20, 1999], is what prompted me to get off my fanny and do something. I started thinking about why I am who I am. I am a product of a public school. I studied music. Music was an everyday part of my life; it gave me confidence. So that night, I went to bed, got up at 3 in the morning, and on an index card, I drew that logo (pointing to the banner hanging behind her) and wrote out a mission statement. Since, [both logo and mission statement] have never changed. The things we've been able to do with this charity have been the direct result of great Board of Directors, great fans, and great artists who become involved. But, it came up through a conversation with my best friend.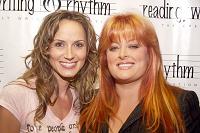 Chely and Wy pose for cameras.
The artist lineup this year is stellar, and really, it seems to be getting bigger and bigger. [NOTE: Past events have featured such heavyweights as Vince Gill, Amy Grant, Loretta Lynn, Martina McBride, Keith Urban, among many others!] How did you line these artists up and what is your reaction to the success of your events?
Chely: People ask us why our events are so successful, and it's the lineup! We give [the fans] what they want, and they want to see the stars that are household names who are on the radio and on GAC and CMT. Wynonna and I spoke before the event last year, and she said, "Chely, put me down for 2006." I said, "Wow, it would be great if you could really think about [being a guest artist]." She said, "No. Put me down – I'm there!" When you get a headliner like that, it's a lot easier to pull in the Little Big Towns, Keith Andersons, and Jason Aldeans – the artists who are having hits right now. The further I get away from having a big hit on the radio, the more difficult it is to get artists on board, so I start early. I will start my calling for next year's event
tomorrow
! All I need is one BIG headliner every year to lock in early, and I can make it happen!
There are going to be many people here tonight and so many more listening to XM Satellite Radio's broadcast of your event. Talk about how your fans listening at home can help out Reading, Writing, and Rhythm?
Chely: If fans aren't with us tonight, they can go to our website – it's
http://www.rwandr.org
– or they can go to my website
http://www.chely.com
for more information about helping
Reading, Writing, and Rhythm
.
Chely with some of the kids in schools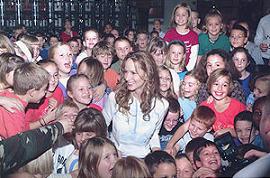 who benefited from efforts of RWR.
Have you had any graduates from the schools that you benefited who are now studying music?
Chely: The first couple of years, we wondered whether we were making an impact. We called the schools. They'd send us letters saying, "The kids are doing great! They're loving their instruments!" Now, we're at a point in this charity where we're getting letters from kids, saying, "Dear Reading, Writing, and Rhythm: You guys were able to get me a clarinet that my parents couldn't afford. Thanks for giving me that. I'm in a band now, and I have a partial music scholarship to such-and-such university." I get letters and e-mails on a daily basis from kids and parents who want to tell me how much of a difference we're making. They say, "You don't understand what you've done for my kid." I really think I know, but sometimes, I wonder, because if it makes one little golden moment in a child's life – [whether it's] one teacher, one concert, one book – to expand their mind and being confident about something, that's what it's about. I hope I never realize how many good things we're doing, because it just might make me break down.

You talked about the kids benefiting from Reading, Writing, and Rhythm. Are there any teachers that stand out in your mind who have helped your develop and continue your program?
Chely: I do want to clarify that we're not implementing a music program into schools. We're trying to augment programs that are already in place, by funding and providing instruments and equipment and/or we are starting back up programs that haven't existed for years. So, there's not actually a musical curriculum that we're taking to teachers and having them teach. We're just getting things like instruments into the children's hands. From there, it's up to the schools' administration, teachers, and parents on how they use them to teach. The teachers that we've come into contact with – they make me want to quit my job in entertainment and go get a degree to become a schoolteacher. These people are the ones changing lives. I go back to Searcy, Arkansas, one of the first schools we were able to help. A teacher by the name of Rhonda Ellis is, with the help of other teachers and parents, is making a difference in that school. They went from not being able to play the fiddle to playing a whole piece together, and it's beautiful!
Chely shares the story of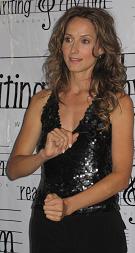 getting her first trumpet
When did you first learn how to play an instrument?
Chely: My whole family plays instruments and sings, so in one room on the weekends, we'd have music, and the other room, we had a poker game going. It seemed to all come together very naturally to me. Legend has it that, at four years old, I went missing in my hometown of Wellsville, Kansas, population 1,000. They had the whole town scouring to find me, and I was found at the nursing home. I had pushed all the elderly folks up in their wheelchairs, and was playing and singing on the piano for them. That's when I first remember playing. I started piano lessons at age four. I was a trumpet player in junior high. The band teacher called my mom and asked, "Why isn't she in my band class?" Well, I was afraid to ask for a horn, because we were poor; I was afraid my parents would make me quit piano lessons. But, Mr. Hicks said, "I want her in my class." So, I went into band class the next day and said, "I want to play the saxophone!" He said, "No, you're going to play trumpet!" And, my parents went to an estate sale, bought me a trumpet that'd been in a barn for twenty years. It smelled like manure, and I was embarrassed and mortified because it stunk every time I played it. But, they said they'd buy me a brand new horn after I made first chair. I made first chair quickly, and I played [the new trumpet] all the way through school, at over a hundred military interments. I played "Taps" at my grandfather's burial, and that's the last time I played that trumpet. But, I still have it at my house.

Can you give us any information about the new album you're working on?
Chely: I don't have any co-writes on this album, which is both empowering and exciting. But, it's also scary, because if people think the songs are bad, I can't blame it on a co-writer. It's all just me; [the songs are] all very autobiographical. It's exciting and eerie at the same time.