By: Estella Pan
All the world is a color palette for visual artist Rachel Kice. The collective moods and energies of any room she is painting in – along with her feelings of the moment – fuel her every movement and brushstroke. She never knows ahead of time how each piece of work will look in its finished state; she simply lets her canvas and paintbrushes lead the way.
Rachel w/ Big & Rich's Big Kenny and John Rich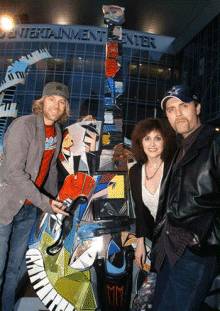 showing off a 10-foot guitar Rachel painted
Rachel says she chose her career path early on. "I've always been interested in visual art and always known that I wanted to make it my life." A meeting with MuzikMafia founder Big Kenny Alphin, of Big & Rich, helped further her pursuits. "I was an intern at Warner-Chappell Music Publishing when I first moved to town. At the Christmas party, John Rich introduced me to Big Kenny, and we became good friends. Kenny said to me, 'We just started the MuzikMafia. You've gotta get out of the house, bring your crowns down and draw!' So, I just started sitting on the floor of The Pub of Love and began drawing and painting during music. I turned it into my little art studio back there!" A chance run-in with Max Abrams (also a MuzikMafia family member) led to the opportunity to become a performance artist. "Max was babysitting my daughter one night when I went to pick her up. I had left her with a friend, Max was also there that day, and that's how we met. He asked me to help him brainstorm ideas for a different performance painter, Marvin Posey." She adds, "Marvin passed away a week after the first show, and that's how I ended up doing the show. I was really Marvin's successor. I hadn't really painted on stage before, but Max really encouraged me to." That show became known as Circus Maximus. In the past few years, Rachel has also traveled with the MuzikMafia, producing sizeable pieces of work that reflected each night's show. Talking about her inspirations, she shares, "When I'm on stage, it's about the immediate moment – the music, the rhythm, everything that's going on. In my studio, it's usually a little bit different. It might be some things I'm thinking about, maybe reflecting on. Sometimes I just start painting and see what comes out. I don't know exactly what it will look like, but I trust the process and I feel good about it all."
Rachel's pants are on display in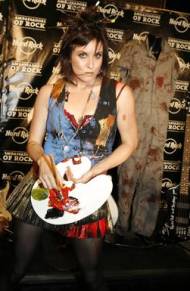 Hard Rock Cafés all over the world!
With a continuous myriad of projects to work on, there is never a dull moment in Rachel's life. She describes one of her latest artistic quests. "Right now, I'm working on a realistic portrait of Big Kenny, Christiev, and Lincoln. It's going to be totally different from anything I've ever done." [NOTE: Christiev is Big Kenny's wife, and Lincoln is their young son.] "April 9 is my deadline."

Another ongoing enterprise is her "May I Paint Your Pants?" series; she got the idea from one of the Circus Maximus shows. "During the show, Max had established three cups the audience could draw from. One cup was Musical Style; Max was responsible for that. He would make up things like 'Tim McGraw marries Yoko Ono' as a musical style. We had a second cup, where another player would start an improvisation of some sort. Then, the third cup was my cup of tricks." She explains, "We had things in it like 'Rachel Decks You Out in Tin Foil.' That's where I came up with 'May I Paint Your Pants?' I thought it would be fun to see if I could get someone to let me paint their pants. Before we knew it, other people wanted their pants painted. When we went on tour with the MuzikMafia, I continued doing it. I'd pull people up on stage and everyone gets excited!" Fans continue to be extremely receptive to this idea, according to Rachel. "It's kind of become a big deal for me! I take [the pants] to my studio to do them now. I put real gold on them sometimes and all kinds of other things!" Some of these masterpieces are showcased in Hard Rock Café locations around the world. "They're on display right now!" Should you want your own pants painted, you can submit your request via Rachel's official website. She has other works for sale in the RKice Art Store, also accessible through her website (see below for link).
As an all-around creatively blessed individual, Rachel doesn't just limit her time to the visual arts. Within the realm of music, she is one half of the musical experience called King and Queen. "Mike Tarrolly had moved to town and we became friends. We dated for a little while and then he thought it'd be better if we started a band!" She laughs, then confesses, "So, I got really mad and wrote a lot of songs, and now, we're really good friends in our two-person band!" Rachel also enjoys writing, and in fact, maintains an ongoing online written series called "Love Rug," which she posts in her MySpace blogs. "'Love Rug' is inspired by my life and conversations. I love to write and I love people. It is a creative outlet that I enjoy infrequently and a place where I sort out some of the philosophies that I encounter, study, and find interesting."
[NOTE: Visit http://www.myspace.com/rachelkice to read her musings.]
And, Rachel has other tricks up her sleeves: She is a trained opera singer, though she warns, "I'm really bad at it anymore!"
Rachel's ultimate goal as a creative being "is just to keep making things. When I run into a limitation, bust through it. I try to look at it all as one life, the art being just a part of it, and I apply that to everything I'm a part of – from art to business to being a mother. I just try to keep going and keep growing."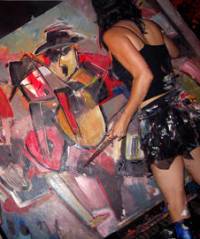 Rachel in action on stage!
When you're on stage, listening to the music and watching what's going on around you, how do you know what to draw?
Rachel: I think it's not so much a matter of knowing as it is a matter of just doing. After I get some paint on the canvas, then I start observing and fitting the shapes and energy of the things I'm seeing into a balanced composition. Sometimes, it's unbalanced, though, because the show will be unbalanced. [My pieces] usually end up being reflective of the shows, as long as I'm being honest. Some of [what's going on] is really hard to describe in words.

Nichole writes: You seem to have such a soulful personality that is locked deep in your eyes and your foundation of being. Do you feel this is portrayed in your paintings and live shows and in what way?
Rachel: Well, that's a really nice compliment! I can't really speak for someone's perception of me. But, I do try to be honest about my feelings with the moment I'm in. I guess that's probably what a soul does, it's just there.

Cherie, from Russell, KY, wants to know: Do you enjoy having people come up to you and asking you to paint their clothes? Do you have people stopping you all the time on the street and asking you?
Rachel: I thrive on people asking me to paint their clothes! Yes, people stop me at least once to several hundred times a week – it depends on what I happen to be doing!
STAR Country! set Rachel on a challenge to describe several members in her MuzikMafia family as if she were creating them as pieces of art. Here's what she offers up!




Big Kenny (of Big & Rich) – He'd be a two-sided penny. He is real stoic, calm, and contemplative on one side. That would be his realistic side. On the other side, it'd be a cartoon, probably not even drawn but rather printed.




John Rich (of Big & Rich) – He could be a claymation in florescent colors with a lot of angles, shapes, and colors that are constantly changing! Lots of action! [NOTE: Claymation, or clay animation, is a type of stop motion animation that is becoming increasingly popular. This method of animation has been used in such movies as Meet The Raisins, The Raisins: Sold Out, and Chicken Run. Plasticine clay is used to construct each piece to form the movie characters or background.]





Two-Foot Fred – I think I'd do wild pencil sketches of Two-Foot Fred, with those real thick pencils.







James Otto – I'd do James Otto curtains, pillowcases, and couches, make a "vibe" with it all. He's a vibe! So, maybe some photographs and put place them all over the curtains. Take different parts of his hair and make that a pattern. Make parts of James Otto into patterns and deck out a room – that's what I would do!





Cowboy Troy – I think it would be good to do something all fabric, kind of like a scarecrow – but not real loose and not with any straw sticking out. I'd make it really, really big and exaggerated, 30 or 40 feet tall, at least! Or, a large painting on the side of a building, a mural.



Gretchen Wilson – She could be something in wax, but not with the bad hair! We'll give her real hair. Unfortunately, I'm not a wax artist, but yeah, a Gretchen Wax Series with 12 different figures of her. She's very focused and very cut and dry. At the same time, she's really dynamic, really colorful! I have a lot of respect for that.