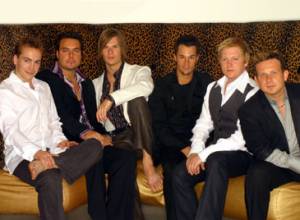 (l to r): Dave, Patrick, Brad, Mike, Dale, and Danick
Who are they?
Emerson Drive have steadily evolved both personally and musically through most of the last decade. Most recently, though, they are the hottest rising group in country music. This six-member group is comprised of: Brad Mates (lead vocals), Patrick Bourque (bass), Danick Dupelle (guitar), Mike Melancon (drums), and David Pichette, (fiddle), and Dale Wallace (keyboards).
In June, 2004, they released their long-anticipated sophotmore project titled What If? and, recruited by Shania Twain herself, Emerson Drive spent most of their 2004 summer on the top-grossing Up! tour.
Emerson Drive has found a new musical home with Midas Records and in 2006, they released their third album, Countrified. The second single "Moments" became their very first #1 single of their career!! The guys of ED continue to tour and share their music with US and Canadian audiences.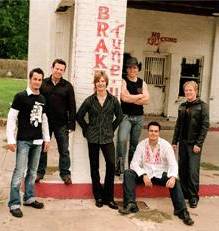 What has Emerson Drive been up to?
REQUEST "You Still Own Me" at radio now!!!! Please continue to REQUEST all of Emerson Drive's previous singles at your radio stations AND videos on GAC, VH-1 Country, and CMT!!

Emerson Drive just marked another career milestone with a GRAMMY nomination for Best Country Performance By A Group or Duo with Vocals for their #1 hit "Moments."
"Wow, what a great way to wrap up 2007! We just found out about our nomination this morning while we were in the recording studio working on our new record. To be nominated in the same category with The Eagles, who are our heroes, as well as all of the other great artists in the category is a real honor for us. We are so grateful and now supercharged for the rest of the day!" commented Brad Mates, lead vocalist.

It is with a heavy heart that we share this w/ all Emerson Drive fans (the following was posted on ED's myspace page on September 26):
While en route to a show in Nebraska, Emerson Drive band members learned early this morning that their friend and former band member Patrick Bourque died suddenly last night at his home in Canada. His body is at a hospital at this time and no official details have been made available as to the circumstances surrounding his death. The brothers of Emerson Drive are shocked and grieving. Patrick was the band's bass player until he resigned in August. He had been living and working in Canada since leaving Emerson Drive.

On a happier note, Emerson Drive kicked off the 2007 Canadian Country Music Awards with a beautiful performance of their #1 song "Moments," complete with orchestral accompaniment and went on to sweep the show, bringing home 3 awards.
Emerson Drive was named Group or Duo of the Year, and received the awards for Single of the Year ("Moments") and Video of the Year ("Moments").
They had their own "moment" when it came to their wardrobe, which did not arrive in Regina until a day after the band did. Thankfully, their show attire arrived the morning of show, just in time for their CCMA awards show appearance.
Emerson Drive hopes to continue their winning streak in November, as they also received nods from the Country Music Association for Group of the Year and Video of the Year ("Moments").
The band's latest single, "You Still Own Me," written by Johnny Reid, Noah Gordon and Phillip Douglas, is currently climbing the charts.

Emerson Drive and their label, Midas Records, have partnered with America's Second Harvest - The Nation's Food Bank Network, the largest hunger relief organization in the United States, to raise awareness for feeding those in need. Inspired by the lyrics of their current single, "Moments" and the storyline of its music video, the group sought an organization that can help people that have fallen on hard times.
Food banks with the Second Harvest Network will staff information tables and collection receptacles that will be present at Emerson Drive concert venues next year. The group will also appear in public service announcements for the organization.
Emerson Drive's lead singer Brad Mates comments, "Thanks to our fans, we've had a blessed career. Getting involved with a great organization like America's Second Harvest is our way help out those less fortunate."
America's Second Harvest – The Nation's Food Bank Network is comprised of more than 200 member food banks and food-rescue organizations serving all 50 states, the District of Columbia and Puerto Rico. The America's Second Harvest Network secures and distributes more than 2 billion pounds of donated food and grocery products annually.
"Hunger exists in nearly every community in this country, and it's within our ability to bring an end to hunger in America with greater awareness of this issue," said Vicki Escarra, President and CEO of America's Second Harvest. "We are thankful to Emerson Drive for stepping up and helping hunger relief gain greater visibility in this country."
On the set of "Last One Standing w/ Trey Fanjoy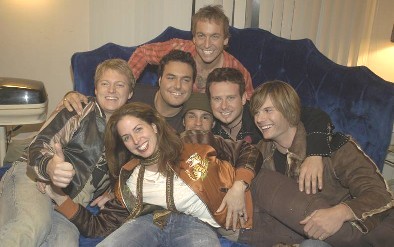 Trey also directed ED's vid for "Fall Into Me"
Did y'all know?!
** Ten years ago, Emerson Drive's lead singer Brad Mates was in a band called 12 Gauge, whose six members traveled stuffed in a van hauling a little trailer, canada.com reports. Today, 12 Gauge has morphed into Emerson Drive and recently, they became the first Canadian country band to make it to the top of the Billboard singles chart, with "Moments." Now the band travels in style aboard a touring bus complete with big screen TV, bunk beds and all the other comforts a bus can offer.
The band's chart-topper, "Moments," took a long five months to complete its steady climb to the top of the charts, appropriate for a band hard-wired with an indomitable work ethic. Brad and the guys — Dale Wallace, David Pichette, Danick Dupelle, Mike Melancon and Patrick Bourque — are almost constantly on the road. If they get back to their Nashville homes four days a month they're doing well. Even with all the hard slogging, a payoff like a #1 hit still comes as a shock. "I think we all took three or four days to digest the whole thing," Brad says. "It was a little surreal. We were in Nashville for the Country Music Association's Fan Fest so we never had the opportunity to sit down and really soak it in and celebrate. There are about 120,000 people that show up in Nashville during that time, and everywhere we went people were congratulating us. So after hearing it for about three days straight, it started to sink in."
While the guys are enjoying their current success, they also hope they can continue the trend. Brad says, "The most important thing that we have to do now is keep putting out more Top 5 and Top 10 songs. That's the only way we're going to have longevity in this business. We want to be known as a band like Alabama that keeps putting out hits year after year and has a career that spans over 30 years. I think that's the ultimate goal."


Where can I buy their music?
Pick up YOUR copies of Emerson Drive's latest album What If? AND their self-titled debut albums by clicking on each respective CD cover!
Do they have an official site?