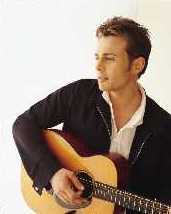 Who is he?
Brad Martin is in it for the long haul. Already, he's earned a Top 10 single with "Before I Knew Better" from his 2002 debut Epic Records album, Wings of a Honky Tonk Angel. He's also enjoyed several Top 40 hits with "Rub Me the Right Way" and "Just Like Love" (both from his debut album), as well as "One of Those Days," from his planned second album. [NOTE: Brad's Wings of a Honky Tonk Angel album is available at amazon.com. Click here to purchase your copy, while they last!! Or, you can visit http://www.Walmart.com and download Brad's singles and full album there as well!!] His debut video for "Before I Knew Better" was Top 10 hit on both CMT and GAC's respective country countdown shows. With that success, Brad has graced the Grand Ole Opry stage on several occasions at the famous Ryman Auditorium. During one of his appearances, Brad invited his father, Rich Martin (a longtime country singer in Brad's hometown of Greenfield, Ohio) onto the stage with him; the segment aired on the television portion of Opry Live! As a songwriter, Brad has well over hundreds of songs in his catalog, and continues to add to it on a regular basis. Most recently, Brad has signed a new deal with Mike Curb Music Publishing and is writing songs while working on his third album. His song, "Boys Like Us," has just been cut by Lofton Creek Records' group, Heartland, who are currently enjoying their first hit single on the charts with "I Loved Her First." [NOTE: "Boys Like Us" is the FIRST track off Heartland's debut album, in stores October 10, 2006!!] With numerous new beginnings on the horizon, Brad is currently working on a new video channel project (Adrenaline Country) that will feature him as a host of regional independent artists/groups from around the country. Brad also hosts a great "Set In on the Music" show at USA Sports Grill on Friday nights, where anybody who has a musical bone in their body can come sign up to play, sing, or just listen to a great new music from Brad and his forthcoming projects. Be sure to catch a show - it's a whole lot of fun!!


What has Brad been up to?
Show your support for Brad by "layin' a brick"!!
CLICK HERE FOR DETAILS ON HOW
(NOTE: new window will pop up.)
CONGRATULATIONS to Brad for getting a cut on Heartland's NEW album,
I Loved Her First
!! The first song on the album is called "Boys Like Us," and it's one that Brad wrote! Please support Heartland, because in doing so, you also support Brad.
Brad plays shows at the USA Sports Grill every Saturday night! It's out in Mt. Juliet, TN. All the FUN starts at 9PM, so get on out there and spend YOUR Saturday nights w/ Brad!!!!