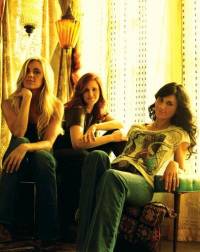 What have SHeDAISY been up to?

REQUEST "I'm Takin' the Wheel" and "God Bless The American Housewife" - both singles are at radios now!! Both videos have been added into rotation on GAC, VH-1 Country, and CMT, so REQUEST!!!!

CONGRATULATIONS to Kelsi and her husband, Steve, who have welcomed their twin daughters into the world!! The girls' names are Savannah Marie and Adyson Amilia.
Kelsi says, "I found out on New Year's Eve and Kassidy was home with me and she actually ran to the store to get me some more [pregnancy tests]." Kassidy adds, "I was at Wal-Mart at midnight buying pregnancy tests with my cousin. We were like looking around at two other shoppers...Happy New Year!'" she laughs.

SHeDAISY is "taking the wheel"! Their video for "I'm Takin' the Wheel" was directed by my buddy Trey Fanjoy and stars Hollywood's own Aaron Eckhart, who starred in Erin Brockovich, Any Given Sunday, and Paycheck. He appears opposite Kristyn Osborne as the leading man in the upcoming video. The single is on SHeDAISY's forthcoming album called Fortuneteller's Melody which hits stores on March 14!

Teri Hatcher, Marcia Cross, Felicity Huffman, and Eva Longoria aren't the only girls playing Desperate these days!! Kassidy, Kristyn, and Kelsi are not desperate housewives - but they DO play them on TV, specifically in their current video for "God Bless the American Housewife."
The clip was filmed on the set of the hit television series, Desperate Housewives and recreates some memorable scenes from the hit ABC series. In one scene, Kassidy (as Susan) finds herself tossing off some nasty looks while vying with Kristyn (in her role as the character Edie) for the attentions of a hunky gardener in a carwash reenactment scene from the series. Kassidy recounts the experience: "It was fun, 'cause I got to give the evil eye." But her "evil" expression dissolved into laughter as soon as she passed the camera's line of sight. "I'm not good at keeping in character," she shrugs. In another scene, Kelsi (playing the character Brie) answers her cellphone: "Hello, Wisteria Lane."
Fittingly, the song is also the trio's contribution to the Desperate Housewives soundtrack.

CONGRATULATIONS are in order for Kassidy, Kristyn, and Kelsi for their GOLDen success!! That's right! Sweet Right Here is now officially certified GOLD by the RIAA!!!!
Did y'all know?!

** If the Osborn sisters had not been able to break through in the music business, what other careers would they have been interested in?
Kassidy: "I'd be a cosmetologist. I'd probably open my own business and specialize in makeovers. I'm talking about head-to-toe makeovers, you know, a health plan, working out, new clothes, new... I mean... therapy." (laughs)

Kelsi: "I would probably own my own business as well but in the food industry. Probably catering of some sort. It used to be a bakery because I love to cook and those sort of things, but I don't know, something along those lines I think. We're businesswomen."

Kristyn: "I was a journalism major in college so that's what I thought I'd end up doing. Maybe working for a newspaper."