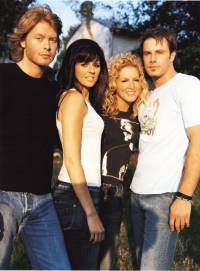 (l to r): Phillip, Karen, Kimberly, and Jimi
Who are they?
Little Big Town is comprised of four members: Karen Fairchild, Kimberly Roads, Jimi Westbrook, and Phillip Sweet. Georgia native Kimberly and Alabama-raised Karen both grew up in richly music-filled environments. But, neither considered a career in music until their college years - incidently, it was there where Karen met Kimberly, both attending Samford University at the time. Then, Karen moved to Nashville and educated herself on the music business by becoming a booking agent. After Kimberly also made the move to Nashville, the two talked about forming a new country group. Karen explains: "We tried to think of all the mixed groups that had ever been in the country genre. We couldn't think of a single one that was two girls and two guys. We thought, 'Why has no one ever done that? Let's do something different.'"
Meanwhile, Jimi of Alabama, after singing in church at 12 years old, knew he wanted nothing more than to make music for a living - his dreams let him to eventually choose music over sports during his high school years. A phone call to Jimi from Karen (the two had known each other for year) secured his spot in the group. Like Jimi, Phillip, who hails from Arkansas, grew up singing in his church and he, too, chose singing, songwriting, and playing the guitar and keyboards over playing sports.
After some record deals fell through, Little Big Town was added to Sony Monument's roster, and their singles "Don't Waste My Time" and "Everything Changes" garnered great radio and video response, followed by their debut self-titled album release. However, they soon parted ways with the label. That was only the start to a snowball of professional and personal downfalls that this foursome endured - among them two divorces and two deaths of loved ones. Pained, broke, but not detered, LBT trekked on and played shows all across the U.S.
Their perserverance paid off, as Little Big Town is now signed with Equity Records (the record label that Clint Black helped start). After collaborating in some songwriting sessions, a little tune called "Boondocks" was born. They released their second album, The Road to Here in October of 2005. "Boondocks" was the kickoff single from the new album and has since also became LBT's first Top 10 hit single! "Bring It On Home to Me," is continuing the momentum created by "Boondocks"! Welcome back Little Big Town!!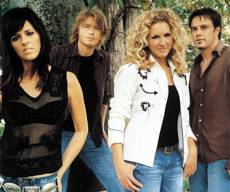 What has Little Big Town been up to?
REQUEST "I'm With the Band" - LBT's current single is at radios NOW!! The video has been added into rotation at GAC, VH-1 Country, and CMT, so make sure y'all REQUEST it!! Please continue to REQUEST Little Big Town's previous singles and videos!

LBT is set to release their NEW album, A Place To Land, on November 6 by Equity Music Group. The disc consists of 12 new tracks, 10 of which are penned by Little Big Town themselves with their producer, Wayne Kirkpatrick. Each song sends a potent message ranging from commentary on emotional abuse, "Evangeline", to the yearning love song "To Know Love", which the band wrote on Valentine's Day. The group purposely set out to deliver what they describe as a "complete body of work." An album that not only represents a variety of emotions and experiences but still works closely together as a whole. "We're fans of albums that you listen to from start to finish, like Rumours and Red-Headed Stranger," Jimi Westbrook says. "We wanted every song to be a piece of a bigger puzzle."
"This record is the heart and soul of what we're about," says Karen Fairchild, who shares lead and harmony vocals with the other members of this wholly democratic group. "We did a lot of soul searching while making this record. It was a very intense, and very gratifying, experience."

LBT's Kimberly and husband Stephen Schlapman are the proud parents of Daisy Pearl, born July 27 in Phoenix, AZ!! Like all things LBT, young Daisy Pearl chose her own time, and decided to make her debut a few weeks early, while on the road with the band. An exhausted but overjoyed Kimberly. "Sweet little Daisy Pearl wasn't due for another three weeks, but it seems life on the road is just too exciting to be missed." The baby weighed in at 6 lbs 10 oz.
Bandmates Karen Fairchild, Jimi Westbrook and Phillip Sweet (who, with his wife Rebecca, is also expecting his first child later this year) accompanied Roads and husband Schlapman to the hospital, before departing for their next show in Vegas, where, in true showbiz style, the show did go on. "It was the first time we have ever done a show without all four of us," Jimi said. "This is a special situation and we all decided that's what needed to be done. We only have a few shows left on the tour and we just didn't want to disappoint the fans. We can't even tell you how much we are missing Kimberly and, of course, little Daisy."

Things continue to be BIG in LBT's world!! Their Road to Here is now lined with Platinum - as their album sales have surpassed the one million mark!!!! LBT's musical Road to Here certainly has been a journey full of ups and some downs - through it all, the four members have stuck by each other for seven-plus years. CONGRATS guys!! Y'all deserve it!!
Did y'all know?!
Little Big Town can be called the poster group for sticking with their dream of country music stardom as they have struggled for years to make a name for themselves in Nashville. Now, with their name firmly on the country charts and in lights, the group's Karen Fairchild tells Dial-Global some of LBT's secrets for sticking it out and keeping their heads high.
"We used to tell our agency and our management team, 'If you could just get us in front of people, we'll sing for free," she says. "If you could help us pay for gas somehow, then we'll do it.' We believed that one gig leads to another and then they book you again and then you're building a fan base. We used to hand out bootleg copies of 'Boondocks' and Phillip and I used to hand write and stamp the little covers ourselves. You just have to keep going. You have to find a way to make it happen."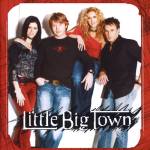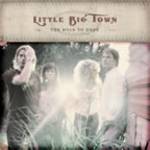 Where can I buy their music?
Little Big Town's long-awaited sophomore album The Road to Here is now available!! Their self-titled debut album is also available for purchase. (Click on each respective CD cover to pick up YOUR copies of Little Big Town's music!!)


Do they have an official website?