Who is he?
Josh Turner knew by the age of 14 that being a singer was what he wanted to do. He began honing his easily-distinguishable bass voice growing up in South Carolina. "Growing up, I was always adept to male singers with baritone or bass voices. As a young boy, I would go around mimicking the bass parts that our church men's quartet would sing." Several years down the road, that voice would get him a LOT of attention around Nashville; Josh eventually moved there, attended and graduated from Nashville's Belmont University (like his labelmate Trisha Yearwood, Brad Paisley, and a score of other country artists). Things started to move REALLY FAST!! He signed with MCA in 2001 and released his debut album in October, 2003. In December, he made his debut at the prestigious Grand Ole Opry and received TWO standing ovations. If that wasn't exciting enough, a mere three months after its release, Long Black Train, the album, was officially certified Gold (it has since gone on to earn Platinum status, selling over a million copies!!). His debut single, "Long Black Train" was the cause of the runaway success, and the song continues to make impact at radio, and the video for it did just as well.
In January, 2006, Josh released his sophomore effort, titled Your Man, which has already reached Platinum status, thanks to the success of the sexy title track, "Me and God," and "Would You Go With Me?"
The icing on the cake for Josh came in the form of an invitation to become a member of the Grand Ole Opry. He accepted and was inducted just days before the release of his third album, Everything Is Fine! With his current single, "Firecracker," blowing up the charts, looks like everything IS fine in Josh's life!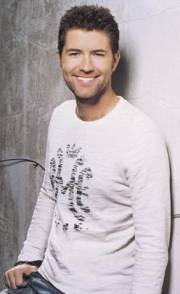 What has Josh been up to?
Please continue to REQUEST "Firecracker," Josh's current single - at YOUR local radio stations and on GAC, VH-1 Country, and CMT!
CONGRATULATIONS to Josh, who was formally inducted into the Grand Ole Opry by fellow Opry member Vince Gill on October 27!!!! He was surprised during his September 29 Opry appearance with an invitation to join the organization!! The message was delivered by Roy Clark.
After taking a moment to regain his composure and give Roy a hug, Josh said, "I made my Opry debut back in 2001. I never knew this could happen so early. And if this is an invitation, I say yes!"
Josh's December 21, 2001, Opry debut is one of the most memorable in recent history. Though he hadn't yet had a song released to country radio at the time, he earned a standing ovation for the song that would become his breakthrough hit, "Long Black Train," and a second standing ovation following an encore.
Talk about coming full circle in his music career! Six years after making his Grand Ole Opry debut at the Ryman Auditorium, Josh returned to the historic stage for his first full-length concert at the Ryman. Performing on the same stage where his heroes received countless standing ovations, Josh selected the perfect place to record his first live CD, a place where he could honor country music legends including Hank Williams and George Jones.
The result is
Josh Turner: Live At The Ryman
and the CD is available exclusively, on July 2, at Cracker Barrel Old Country Store locations and online at
http://www.crackerbarrel.com
.
Josh Turner: Live At The Ryman
captures the natural power of country music's most distinct baritone voice. "I will never forget the excitement of the crowd. Just knowing the tradition, the heritage and the history that have taken place on that stage, it's inspiring. So for me to go out there and record a live album from the Ryman stage... It was an incredible feeling."
On this exclusive CD, Josh delivers his signature song, "Long Black Train," plus a collection of his favorite country classics. In addition to performing Merle Haggard's "Silver Wings" and Don Williams' "Lord Have Mercy On A Country Boy," Josh had the crowd cheering following his respectful renditions of George Jones'"He Stopped Loving Her Today" and Hank Williams' "I'll Never Get Out Of This World Alive."
With a retail price of $11.99, the 12-song
Josh Turner: Live At The Ryman
CD is the latest project in an impressive collection of exclusive music available only at Cracker Barrel.
Josh Turner: Live At The Ryman
follows the May release of Merle Haggard's
Working Man's Journey
. Over the last three years, Cracker Barrel has released exclusive CDs featuring Alison Krauss & Union Station, Amy Grant, Sara Evans, Charlie Daniels and Songs Of The Year.
Josh celebrated yet another #1 with "Would You Go with Me," and he marveled at the amazing year he's enjoyed: "Two number one singles is just hard to believe - in a year's time on top of that. With the record going platinum it's just been an incredible year career-wise. 'Your Man' was an incredible song. 'Would You Go With Me' was an incredible song. It's really brought my career to a different level for sure, and garnered a lot of respect from a lot of people towards me."
During the presentation to commemorate the chart-topping feat, Josh was given a plaque for his one-month-old baby, Hampton, that read: "While you were being born your dad was rockin' on the charts at #1." (NOTE: Otis was born the same week his daddy celebrated a #1 song for "Your Man.")
Josh has established The Josh Turner Fund for the Arts!! Visit his website (link is below) for details on the new organization!!
According to Josh:
Here's the story behind Josh's hit single, "Long Black Train" - in his own words:
As I was walking home I noticed there was something unusually dark about that night. All of a sudden, I got this vision of a wide open space, out on the plains. There was a train running out in the middle of nowhere, and people were standing beside the tracks, just watching it go by. I was thinking, "What does this mean?" It dawned on me that the train was a physical metaphor for temptation. These people were standing there, deciding whether or not to get on it. That stuck with me. I was going through a tough time in my life at that time, and temptation was a subject that I knew a lot about. When I got home, I sat down on my bed with my guitar, and it just started pouring out of me. This song is odd. It's old-timey - it sounds like 1940's gospel music. But I started playing it for people and they went crazy over it. It blew my mind. That song has opened so many doors for me. I'm glad it's the first track on the album, because it expresses my country upbringing and my Christian heritage.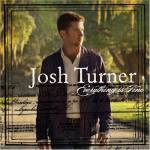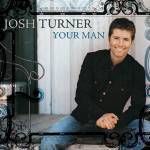 Where can I buy his music?
All of Josh's albums, Long Black Train, Your Man, AND his latest Everything Is Fine are in stores now!! Y'all can purchase YOUR copies of Josh's music by clicking on each respective CD cover!!
If you'd like to contribute to the Josh Turner Fund for the Arts, please send your donations to:

The Josh Turner Fund for the Arts
c/o The Community Foundation of Middle Tennessee
3833 Cleghorn Avenue
#400
Nashville, TN 37215