By: Estella Pan
Billy Yates is the quintessential jack of all trades. He is a singer who has released five solo albums. As a songwriter, many of his songs including "I Don't Need Your Rocking Chair" and "Choices" are now classics. He has sat in the producer's chair for recent albums for Victor Sanz and an artist from Sweden, Red Jenkins. "I've been in Nashville for twenty years, and during the first five years, I was working on trying to shop for a major record deal. After I started writing full-time in 1992, I started spending a lot of time in the studio, and so it was a natural transition to start producing some records." And now, he is running his own record label.

A native of Missouri, Billy's parents helped nurture a deep love for country music. He says, "Had I not been born into a musical family, and one that loved country music, I wouldn't be doing this. Early on, there were always great country records around our house – Merle Haggard, Buck Owens, Lefty Frizzell, Jim Reeves, Carl Smith, Webb Pierce, Ernest Tubb, on and on. Those artists all influenced me, but my parents exposed me to their music." Billy began writing songs in the early 90s and his preferred place for doing so is in the comfort of his Music Row office. "I really do well in my office. It's quiet in there, so I've got the right environment there to write."

In 2002, he launched M.O.D. Record Label. [NOTE: That's shorthand for My Own Damn Record Label.] "After having been on a couple labels in the past, you learn from those experiences, about ways to do things on your own. So, I decided after a while that I would [start my own label]." Being that he's now essentially working for himself, Billy is enjoying his career run a whole lot these days! "The beauty of it is, you're basically cutting out the middle man on so many levels of the business. But, you also don't have to have the expectations that some of the major labels will have – one being to have Platinum or better in album sales. If you're doing it on your own, you can have whatever [expectations] you want." Billy says another advantage is that "I have the freedom to do what I love and record the kind of music that gives me goosebumps. It's very challenging, but it's also been so rewarding to be, really, a one-man show, when it comes to my record label – I do everything myself. To be able to get out and work and see the fruits of my labor, I really can't see doing it any other way these days."

Through the years, Billy has enjoyed a menagerie of career highlights as a singer and a songwriter. He says, "I think the success in Europe has been the most rewarding, as far as the artist side of what I do. I came to Nashville to be a singer, not to be a songwriter, so that was really always my first love. Being an artist, I love being on stage, meeting people after the shows – I love every part of that." On the songwriting side, Billy says earning a Grammy nomination for "Choices" has been particularly meaningful. "Having been nominated for a Grammy, as a songwriter, was just really cool, because there are people who are much better songwriters than I am who have not had that honor." He adds, "Beyond that, having George Jones – who was always my idol – record that and 'I Don't Need Your Rocking Chair,' which was my first song to ever have been recorded. Then to have all these artists to come in and sing on it, it was pretty amazing!" [NOTE: "I Don't Need Your Rocking Chair" also took home the trophy in 1993 for the CMA Vocal Event of the Year.] Most currently, you can find one of Billy's song on Jeff Bates' new album, Leave the Light On; the ballad is called "I Can't Write That."

Commenting on an ideal duet partner, Billy says, "Wow! At one point, I would have said [George] Jones, but I've done that. Merle Haggard and Buck Owens were also my idols and I've worked with them. Besides that, Dolly Parton has always been one of my favorites. She doesn't take herself seriously and she's an incredible talent. And, as made up as she looks, she does have a genuine love for people, and she's so real." Breaking into a laugh, he adds, "Course, I'd be so excited I'd probably forget the words, and it'll be a disaster!"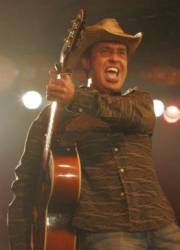 Something that is not likely to end in disaster is Billy's annual fan club party, which he will again host during this summer's CMA Music Fest/Fan Fair week. The event doubles as a benefit for Christmas For the Children, an organization that he champions. "Four guys started it in the town I live in. We find kids that are less fortunate, bring in artist tour buses, take them to the local WalMart or Target, and give them $100 each. Every year I go along as a chaperone and help them find gifts. It's an incredible experience!" Billy adds, "The beautiful thing about it is these kids don't go straight to the toy section to find something for themselves; they say, 'I've got to find something for my mom, my brother...' Every time, they put themselves at the bottom of the list. It's an amazing thing, and it tears me up! It's the way we should all be." Billy talks about the concert portion of the upcoming event: "Because of my love for more traditional country music – and because there is an audience who really wants to hear more traditional music, this will be a show that is for that particular group of people. We're calling it The Countriest of the Country." Festivities are scheduled to take place on Wednesday, June 7, beginning at 6:00 PM. He promises that it will be a "spectacular show!" [NOTE: Other details and artist lineup have been announced – for more information and to purchase YOUR tickets, please visit Billy's official website linked below.]

Speaking of fans, Billy makes a conscious effort to be as involved with his fans as much as possible. He says they play an extremely vital role of continuing the grassroots approach in spreading his music. He welcomes people of all ages and doesn't charge any money for people to join his fan club. "When you're doing it like I'm doing, the fans are really, really important, because when you're on your own, you don't have the means to buy advertising and do 'big things.' So, you rely heavily on the fan club to spread the word. Especially in Europe, so much of it is by word of mouth over there." Before becoming his fan club president, Jutta Hentschel, was one of those fans supporting Billy and his career. The two met in 1997 at a show Billy was doing, became friends, and now, she is running his fan club. "The fact that she's from Germany is real neat, too!"

If you're looking to discover something interesting that you don't already know about Billy, he offers this: "I think an interesting tidbit would be the fact that I do a lot of artwork. I do portraits, murals, paintings, water colors, ink pencil. In fact, I was in high school when I started doing portraits, so I have a very cool collection of portraits I've done of [celebrities]. I would contact their management and get them autographed – Farrah Fawcett, Sally Fields, Burt Reynolds, KISS, Cheryl Tiegs, Ronald Reagan."

This brings me back to my opening statement: It's obvious that Billy is skilled in the many facets of both music and art – is there anything he doesn't do?!