By: Estella Pan
Lane Brody is beauty in its purest form. Despite having been dealt devastating blows throughout various stages of her career, she has maintained a positive spirit. She shared her musical journey with me during the 37th Country Radio Seminar (CRS) week.

In her latest video, "Even More," there are no scantily clad people, nor are there fancy sets or flashing lights. The clip is simple yet it glows with elegance and grace, just as the singer herself exudes. This very fact allows her to stand out among droves of wannabes and copycats in an ever-competitive industry. Ross Wood, who flew in to Nashville from Australia, created the treatment for and directed "Even More." Lane shares her thoughts about the video. "I thought the choice of filming location was interesting. It was an old mill where they used to make military blankets and things. It was really rundown – that was real, all that chipped paint. We had a really fun time, and I feel very privileged to be doing videos after all these years."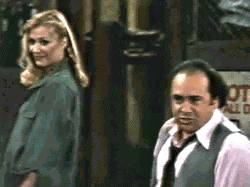 Lane as "Janine" in TAXI
Lane in an ad for Tame Creme Rinse
It appeared in Glamour and Seventeen
"All these years" began in Racine, Wisconsin, where Lane was raised. Though she showed early interest in music, she counts one particular talent show as the defining moment that prompted her to pursue a career in music. "I performed on stage at my high school with my guitar, sang two songs for a talent show, and got a standing ovation. Out in the hallway, after the show, I overheard a parent say, 'Yes, there were some talented people, but the girl who played the guitar sounded like a real professional.' Up to that point, I had practiced a lot; but from that point on, I knew I could do it." After high school, Lane relocated to Chicago, where she began singing commercial jingles for 7UP, Kentucky Fried Chicken, Juicy Fruit gum, and other companies. Opportunities for modeling soon surfaced, and she was photographed for ads that appeared in several print publications. She was also filmed for on-camera commercials. After signing with GRT Records, Lane released her debut country single, "You're Gonna Make Love to Me." Then, she packed her bags and headed to Hollywood, and within a year, she signed with Capitol-EMI in Los Angeles, from which her single "He's Taken" was released. In the meantime, she secured an acting coach, Jeff Cory, and almost immediately landed the guest-starring role as "Janine" in the popular television series TAXI. Lane says, "I never aspired to be an actress. Acting, for me, is a means to be free on camera, to be able to feel comfortable and totally uninhibited, to release my spirit into it in a very joyful, relaxed way." Not long after, "Just a Little More Love," which was also included in the made-for-TV-movie The Gift of Life, earned Lane an Emmy nomination. Then, in 1983, "Over You" – a featured tune in the movie Tender Mercies – claimed the top spot on the country and pop charts and was later nominated for an Oscar.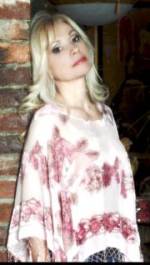 Just as fast as her professional success escalated, however, trouble lurked around the corner. Lane explains, "I can't say that it was one incident; it was a bunch of them and I fought it early on." The various incidents all involved some form of exploitation, which she points out "has always gone on. I've seen it in Chicago, Hollywood, and Nashville. It's sad to have to say. But as a female, if you fit the bill with a particular 'look,' many of the men in the industry want to exploit it in one way or another – whether it's for their own satisfaction, to sell their publication, or to sell you as a product." One particular situation was especially disturbing. "The photographers for Playboy who were scouting for models were told to get me nude. They don't tell you during your test shoot, but then when you're actually doing the shoot, they try to encourage you to take more of your clothes off. I saw many of my peers do that who went on to have very huge careers. It's like you have to do Playboy before they give you serious acting jobs. It's not very much different in music either; it's there. I had to say, 'I'm a singer. [Posing nude] is not what I do.'" Unlike many, however, Lane was adamant about not playing by those rules. The noticeable backlash was that "it caused an extreme penalty on my career," and she saw virtually every door slammed in her face, because she would not compromise her morals. "For me, it became something where the majority of men I was dealing with were looking for something from me before they would advance my career – or do what they were supposed to do in the first place, as professionals. It became an unprofessional situation. Then, I became a 'negative' to [Nashville], because they decided to ruin my name – to create lies about me, because I wouldn't play their games." She stresses, "But, I am not the negative. I am the positive energy. I present my talent with integrity; it is a gift. I've protected my talent and I want to give it in its purest form. It's wholesome and it's good. I don't want young children to look at me and ever see anything but somebody who is sharing her gift. I don't want to go on stage and have other women think I'm going to be chasing down their husbands. I want to go out on that stage and be open and honest. Those are the things I fought for, and I took a huge fall for it."

Lane may have fallen, but she didn't stay down long. Music and singing remained the forefront in her life – she simply found other means to share it. Lane says her fans sustained her through the difficult times. "During that time, the bulk of my days were spent touring the United States and I also went overseas. All the crowds were amazing! They responded to all my music, and that's what kept me going. God bless my fans for that; I couldn't have made it through without them." The Internet has also been instrumental in allowing her music to be heard all over the world. Her fan base spans throughout Germany, England, Australia, and other countries. She doesn't criticize, necessarily, other people's motivations for attaining success, but she does stress that those same things are not and never will be on her agenda. "Years ago, we used to talk about more talent than money – when you have talent, you don't really need the money." Lane is a performance-driven artist who speaks her heart through her music and therefore doesn't have to rely on superficial effects to enhance her performances, whether live or on film. "That's just my way of doing it." Lane staked her ground and overcame the many lies that surrounded her – over twenty years after her initial tumble. "Through all the good works that I had been doing, people are finally beginning to realize that they were lies. My talent is still what it is and I'm still here. The music is just finding its way. If everyone could have something in their life that they love so much to do, what a beautiful world it would be!"
Lane performs at the Ft. Campbell Welcome Home Concert
Singing to honor both the veterans and the men and women still serving our country is very near and dear to Lane's heart. Her support for our military personnel stems from observing the profoundly devastating effects the Vietnam War had on her brother. "I think it started with my older brother, who is a Silver Star recipient, and has 100% Post Traumatic Stress Disorder (PTSD) [after] serving in Vietnam. He was a national champion wrestler and that war really affected him and our family in a dramatic way. When he came back, he was not thanked; he was spit on. That's where it began and it has snowballed from there." When things shook up her own career, Lane related to and connected with her brother on an even deeper level. "As an artist, I always put my feelings and emotions in my music. Watching my brother, I interpreted his suffering, empathized with him, and then in some strange mystical way, I sort of felt like I was there. I can't really describe it except that there's something about being a warrior and a fighter that feels real to me, because I've been a fighter in my career against injustice and immorality. My brother said to me that I had PTSD from the wars that I was fighting." With tears welling up in her eyes, she relates, "He and I continue to heal together. I love him." Experiencing those very cutting wounds helped inspire Lane to write "Unsung Heroes" and "Thanks For What You Did." She says, "It's a terrible thing that our military troops go through; [some people just] don't get it. Lives are changed not just with them but their families. I care and I will never stop caring and thanking our vets. That's where those songs came from. My brother was so excited when he heard them; he said those are his songs!" [NOTE: Lane continues to sing both "Unsung Heroes" and "Thanks For What You Did" at homecoming ceremonies held to honor the troops.] Many have been receptive to Lane's giving heart and that is the ultimate gratification for her as an artist. "When I see people find some peace and they see someone who really understands – that my heart is their heart – that's what is really beautiful."
Lane with a couple friends from Walden's Puddle
Lane is equally passionate about music as she is about raising awareness for the ethical treatment of animals. If she isn't on stage, you just might find her rescuing an orphaned or injured animal. "I don't care if I'm going to the CMA Awards. If I see a dog on the side of the road, my dress is a goner!" She emphasizes, "We can't go bulldozing forward and ignore what's happening. At least, I can't." Those ideals inspired her to spearhead the Lane Brody Wildlife Benefit Concert event. Each fall, she hosts an evening celebration of treasured talent and beautiful music with proceeds benefiting Walden's Puddle, a rehabilitation facility located in Joelton, Tennessee. "Often times, it takes four, five, six months after animals are rescued before they're ready to be released. [At Walden's Puddle,] they are a really dedicated group of people who are volunteers, receiving almost nothing to do this work." Thom Bresh, Paulette Carlson (former lead vocalist for Highway 101), Rodney Crowell, Billy Ray Cyrus, Vince Gill, K.T. Oslin, Brad Martin, and many other artists have all taken part in the event. "This will be year number five. The Gibson Showcase people have been great; they give us the theater to use. God willing, we'll keep doing it. We'll keep putting food in the mouths of these little critters!"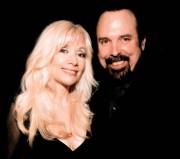 Lane with her husband Eddie
The coming months will find Lane finishing a new album, from which "That's Where Love Comes In" is the kickoff single being marketed here in the United States; it has already been shipped to radio stations. Filming for the accompanying video has also wrapped, with plans to be added into rotation in the near future. [NOTE: Ross Wood, who directed "Even More," was again the director for this clip. Fans can watch both videos from the News page on Lane's official website linked below.] Lane is especially excited for fans to see the new video. "What I think is really significant about this video is that it plays to the integrity of the song. The actors are real people. I'm also finding that everyone who has seen it is relating to it in one way or another. It doesn't matter if it's something that happened years or something that is currently happening, it's still very moving for them." On her forthcoming album, Lane is once again collaborating with her husband, Eddie Bayers, an A-list drummer who has been named ACM Drummer of the Year twelve times. Accolades aside, in her husband, Lane found someone who understands the very core of who she is and what she is made of. Eddie has played on and produced several of her recent albums, and Lane is thrilled to be working with him again on her new album. She says about working with her husband: "It's a dream."