By: Estella Pan
Growing up in a family where every member in it is a professional musician, it's not a surprise that Megan Mullins should also choose to pursue a career in the music business. I met with the newest member of the Broken Bow Records family in the late afternoon of the first day at this year's Country Radio Seminar. She reflects, "I can't ever remember not wanting to play [music] or sing. Some kids want to grow up to be princesses or veterinarians. I always wanted to play music." Even at a young age, Megan felt an undeniable pull toward music. "When I was four, a lady asked me, 'If you had to give up your fiddle or all your toys, what would you give up?' Well, I said, 'All my toys, because I could play my fiddle, make money, and buy all my toys back!'" That same determination and having a keen understanding of the joys that come with getting paid to do what one loves has already carried Megan far in her musical endeavors. At nineteen years of age, she is a serious musician skilled in playing several instruments. (She plays the violin, mandolin, guitar, piano, cello, viola, clarinet, and accordion) She also possesses a rich smoky alto voice that is well beyond her years.

Megan's musical history begins in Indiana, where, at barely two years old, she took up violin lessons. "I was inspired by my older brother. My dad used to play old country classics on his guitar. My brother, when he was three, wanted to play guitar just like my dad. You can't really start that young on guitar, so somebody suggested Suzuki violin and he started with that. Well, he was my older brother, and I thought he was the coolest thing in the world – I still do! – so everything he did, I had to do too!" She continues, "I started picking up pencils and doing bowings when I was eight months old. So, my parents let me start. I had my first violin recital when I was two." [NOTE: To avoid any confusion, the violin and fiddle are essentially the same musical instrument. In classical music terms, it is referred to as a "violin," while fans of country and bluegrass music have come to know it as the "fiddle." Both are used interchangeably throughout this article.]

Soon after, Megan began learning to play other instruments. One of them was the accordion, which her grandfather encouraged her to learn. "My grandpa played the accordion, so he got me the keyboard kind. At first, my brother and I would sit next to each other – he would play the left hand while I played the right hand. [A few years later], I got the kind with push buttons. It's cool!" Having mastered a menagerie of musical instruments, I wanted to know which one was the most difficult to learn. Megan says, "I can't remember the fiddle being difficult, probably because I did start so young. To me, when you become proficient on one instrument, the rest just falls into place. [All those instruments are] similar in certain ways."
On the road with "Nashville Star 3" finalists
Jayron Weaver, Jason Meadows, Jody Evans, and Megan
Eventually, her musical road led Megan to work with fellow recording artist Sherrié Austin. She says, "I was fifteen at the time and Sherrié had this 30-minute GAC special she was getting ready to shoot. They said, 'Hey, we need a fiddle player for this video thing, can you come?' So, I played on the special. Then they asked, 'What are you doing this weekend?' I hadn't planned anything, so they said, 'Hey, come to Colorado!'" [NOTE: That was where in Sherrié's "Drivin' Into the Sun" video was filmed, in which Megan appeared as the female lead character. Also, clips from the GAC special were the core of Sherrié's "Streets of Heaven" video.] Megan has since also been on the road playing shows with Catherine Britt, Jamie O'Neal, and last year's top four Nashville Star 3 finalists, among others. Speaking of Nashville Star, beginning March 14, fans will be able to catch Megan once again playing in the house band for the show's fourth season. [NOTE: She was in the house band for last season's shows as well.] She says, "Actually, from that GAC special with Sherrié, I met John Bohlinger, who is the leader of the Nashville Star band. I've written some songs with him that will be on my debut album, and also he got me the job with Nashville Star." Nashville Star 4 will air on USA Network every Tuesday evening for eight weeks.
In case you're curious about how Megan is able to learn so many pieces of music in a short time, here's her secret weapon: "I guess I'm pretty good at faking!" She lets loose a giggle then proclaims, "Yes, that's my thing! If you act like you know what you're doing, nobody knows the difference!" More seriously, she points out her learning experiences from playing for a live television show. "Nashville Star taught me a lot about that. It's like this: you have one chance to do and it had better be good, because it's live. What are you going to do?" Regular gigs helped further her musicianship as well. "When I first moved to town, I played all up and down Broadway, in places like Tootsie's. It was four hours of me playing a bunch of songs that maybe I didn't know. I knew some songs to where I had heard them before but had never played them." The way Megan sees it, though, also attests to her strong work ethic. "You just do it!" Clearly, she is one poised musician! But, are there times where she gets the jitters? She says, "You know how little kids get up and dance and they're just completely lacking of any self-consciousness? When I was a kid, some lady came up and asked me if I ever got nervous. I was like 'Mommy, what does nervous mean?' To me, it was fun and it was what I wanted to do."

Something she wanted to do at that very moment was reach into a bag of Hershey's Hugs sitting on our table. Megan finally unwraps one and, popping it into her mouth, says, "Excuse me. Let me chew this first." She adds, "I couldn't look at it anymore and not eat it!" Seconds later, it is back to business. "Ok, I'm sorry. Ask me your next question." Curious about her unique, smoky voice, I inquired her of its origin. "You know what I think it is? When I was five or six, my dad would help me learn songs. Well, he has a really low voice." She continues to explains her theory, "I've never confronted him about this, but I suspect it's because if I wanted to sing a song that was in an uncomfortable key for him, he would just tell me to do it in a lower key. He'd say, 'Well, I can sing it like this...'" (she sings Patsy Cline's hit "Crazy," dipping her voice gracefully to that hard-to-reach low note on the second syllable of the opening word.) She continues, "So I, at five or six, thought, Ok sure, I can do that! Even though he's a guy who's much older than I am and I'm a little girl and I shouldn't have to sing the same notes as he did." In retrospect, Megan says she's "actually really thankful" for it. "It does make me sound different."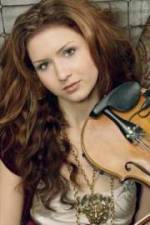 Country music fans will soon get to listen to that sound, as "Ain't What It Used to Be" has begun impacting radio. Megan talks about the song: "It's about a girl leaving a small town, because she's got nothing left, and going to find something better for herself. It's like, 'My future ain't what it used to be.'" Megan, herself, relates with the song, because "I grew up in a small town in Indiana where we had a WalMart, a truck stop, corn fields, and cows. When I was fifteen, I graduated from high school and moved to Nashville in search of what I had been dreaming of since I was a baby." I asked about her feelings, knowing that her debut single is within weeks of release. "Oh, I'm so excited!! I was looking at my calendar the other day and thinking, Wow, [it'll be released] in a few weeks!" She maintains that she isn't nervous, because, "My mom always told me, 'Everything will happen the way it's intended to happen. All you can do is trust in the Lord.' So, I'm not going to overly stress about it, because I know I've done my best." Given the stellar year Broken Bow Records had in 2005, thanks to label mates Craig Morgan and Jason Aldean, I don't foresee Megan having anything to worry about! Expressing her gratitude to her label staff, she says, "I'm so happy to be with [them], because it really is like a family there."

Music aside, Megan would like fans to know, "I've got the sweetest dog in the world! [Maxie is] so sweet; she's like my little kid! She's a Rottweiller, and when I got her, she was only eight pounds." Megan informs me that Maxie is now "nine months old and a hundred pounds! She's very sweet and loving, though!"