Shannon's STAR Cause:
Though Iowa-born Shannon Brown grew up singing, becoming a professional recording artist never actually entered her mind. Growing up around music was inevitable for Shannon, given the fact that her parents owned various clubs and restaurants around town. And, though she had sung in selected choirs and pageant shows, it wasn't until she started singing karaoke during her late teens. She reflects: "One day, my father came up to me and said, 'You could do it. You could be a professional singer. I think you have what it takes.'"
With those encourging word and both her parents' support (they traveled with her, helping her with sound and lights for her performances.) Eventually, Shannon made the move to Nashville in 1994 and began taking jobs as a demo singer. Three years later, Shannon signed her first record deal, releasing her single "Baby I Lied." The powerhouse ballad showed off this talented songstress' vocal versatility and her richly soulful voice made her a fan favorite. Though the deal fizzled, Shannon found personal fulfillment in acclaimed video director, Shaun Silva, the man she married in 2002.
Fortunately, for her music career, fate stepped in. At the 2004 CMT FlameWorthy Awards, Shannon and her husband were escorted to their seats - albeit the wrong ones!! Sitting next to them were Big & Rich. Having previously struck a friendship with John Rich, Shannon and John spent the evening catching each others up on their lives. That led to plans to record a new album; with John at the producing helm, Shannon knew that she would finally be able to "make the album I wanted to make." Warner Brothers sealed the deal, signing Shannon to their label. The following year came the release of the infectious and unapologetically autobiographical "Corn Fed" (Shannon co-wrote the tune with John and Vicky McGehee) earning Shannon her first Top 20 hit! Shannon's long-awaited debut album released in February 2006.
Shannon has found a neat way to incorporate her music with another of her passions: helping children. She is one of the co-founders and an active member of the Charley Foundation, an organization which provides support to various non-profit charities through donations, sponsorships, and fundraising efforts. Shannon helps organize annual benefit events for the charity. She is also involved with Warm 2 Kids, Families of Freedom, and Scholarship America.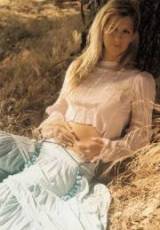 Shuck U, Shannon:
Be listening for "Pearls," Shannon's NEW single - going out to radio soon!! Please continue to REQUEST "Corn Fed" - at radios and the video on GAC, VH-1 Country, and CMT, so REQUEST it!!!!

Shannon reunited recently with her childhood tennis coach, Nito Hausia, after nearly two decades. Featured in the current (March/April) issue of USTA's (U.S. Tennis Associations) membership magazine, Shannon quickly heard from her high school coach, now currently coaching in Southern California. Before pursuing her music career, Shannon was a promising tennis player holding the #1 singles spot on her high school team for four years after helping to start a tennis program in the community. She says in the article, "I played tennis three hours a day, seven days a week. It was my sole passion. I wanted to be Chris Evert."
After being featured in USTA Magazine, Shannon recounts, "I got a message on my My Space from (Hausia)... I can't describe how excited I am. I spent almost a year trying to find him through USTA and Google and came up with nothing. I had almost given up. He was a very profound influence in my life and it feels so wonderful to be in contact with him again. I haven't spoken to him or seen him in 18 years." Shannon continues to play tennis in her spare time and occasionally plays for charity events.

Check out Shannon's live performances on AOL Music!! (Check her official site for details - link is below)


Did y'all know?!
** Shannon is married to video director Shaun Silva. His works include music videos for Kenny Chesney (every KC video since "Young"), Terri Clark ("Girls Lie Too"), Craig Morgan ("That's What I Love About Sunday" and "Redneck Yacht Club"), and many others! [Remember Terri's "Girls Lie Too" video? Shaun fooled many eyes when he himself played the Johnny Depp character "Jack Sparrow" in that clip!]

Listen Up:
Shannon's debut album Corn Fed is in stores NOW - click on the CD cover to the right to purchase YOUR copy of Shannon's music!!
Visit Shannon's official website at:
http://www.ShannonBrown.com
!!
[NOTE: Y'all can also find out more about each of the organizations Shannon supports in the "For the Cause Charity Drive" section on her site!!]