By Estella Pan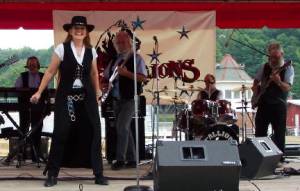 Checking out a Rustie Blue show these days, you'd never guess that she used to have stage fright. She reflects, "Just seven years ago, I was so shy that I couldn't talk to the audience! I couldn't entertain them. Stage fright was terrible for me!" Luckily, her manager and Dolly Parton came to her rescue! "He has a Center Stage Legends in Concert show he does in Ohio and he had me start doing tribute acts to get me out of my shyness. He said, 'If you want to do this, you have to entertain; you have to communicate with your audience.' So, I did a Dolly Parton tribute with the big blonde wig and everything. With that total transformation into Dolly, I could crack jokes with the audience, and they just loved it! When I was back to being Rustie Blue, I was shy again. Eventually, I was able to perform and entertain as myself and feel just as comfortable."

Coming into her own, Rustie has discovered that she's quite the comedienne on stage! She recaps a humorous story: "One time, I had a water bottle in one hand and the microphone in the other. Well, I started to talk out of the water bottle and everybody started to laugh!" Her comedic antics are bound to win anyone over. But, if that doesn't do it, her genuinely likeable personality and fiery long tresses most likely will! Rustie came by her country roots naturally; she remembers being surrounded by country music. "My mother always listened to country music, and that's basically what I grew up on. Although she did listen to Elvis Presley, who was considered a big artist in rock 'n' roll back then." Rustie also shares blood ties with fellow country artist Merle Travis. "My grandmother was Lila Jane Travis." As for piquing her interest in actively pursuing a career as a recording artist, Rustie credits her sister, Sylvia. "I started singing when I was eight or nine just with my sister locally. But, I didn't really get into it real seriously until the last seven or eight years. My sister's a great guitar player and songwriter – she's not out [pursuing a music career], but she should be!"

Though currently residing in her home state of Ohio, Rustie says she is contemplating a move to Music City. "It's a hard thing to do – to make that move – when you've lived in Ohio most of your life. But, I'm thinking about it! I've made several trips to Nashville, and one thing I've noticed, especially the songwriting community, is that it's a really close-knit family."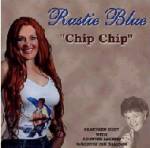 Purchase YOUR copy of "Chip Chip"
Speaking of songwriting, at the time of our interview, she had received word that her self-penned "Honky Tonkin' Diva" had just advanced to the third round in the International Songwriting Contest (ISC). In lieu of this exciting news, I asked if she could remember the very first song she ever wrote; amidst giggles, she replied, "It wouldn't be worth mentioning if you went with my very first song!!" She admits that she's still new at the craft. "Actually, I haven't been writing for very long, just maybe the last couple years. But, the more songs you write, the better you get at it and the more ideas you get in your head. I get [song] ideas when I'm doing things around the house – when I'm cooking, especially. And, this was the first contest that I'd ever entered, and 'Honky Tonkin' Diva' is the first song of my own that I ever recorded. There are just so many great songwriters out there that it was hard to put one of mine on my album. But, I'm glad I did! It's been a lot of fun!"
[NOTE: Interested songwriters may find out more about the International Songwriting Contest by visiting http://www.songwritingcompetition.com.]
I had to know what inspired her to write "Honky Tonkin' Diva," so I asked! "Well, I hear the word 'diva' used a lot, and I really wasn't sure what it meant. I think of a diva as a successful woman – somebody who has self-confidence and believes in herself. So, I thought,
Why not put a diva in a honky-tonk setting?
At first, I thought the song was a little corny, but then my band and I would go out in the clubs to perform it, and the dance floor was always full. I've had a lot of fun with that song."
As for the other songs off her current album,
Chip Chip
, Rustie fills us in. "I've kind of got a variety of musical styles on my album – on all three of my albums, actually. One thing I find a lot is that people don't know whether I'm a traditional or contemporary singer. I think the traditional influences are still there no matter what I sing. I appreciate all styles of music, but I'm definitely not a pop singer! I love Celine Dion, but I can't see me doing her songs!" About the album, she adds, "There are fifteen songs on it. 'Honky Tonkin' Diva,' 'The Devil May Care,' and 'The Same Old Who' are very traditional. I have four songs that Bill Anderson wrote, and two of them are [fairly new]. One of them is "Tomorrow Tonight," which he wrote with Deborah Allen, and I was really honored when he offered me to be the first one to record it." Bill also wrote the title cut, "Chip Chip," on which he duets with Rustie.
In the studio w/ Whispering Bill Anderson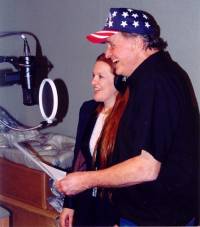 recording their duet "Chip Chip"
So, what was it like recording with the legendary Whispering Bill Anderson?! "It wasn't like I thought it'd be. I thought I'd lay down my harmony vocals after he did the lead vocals. But, we found out it worked better if we sang it live together. Bill is such a down-to-earth person that he just made me feel right at home. I was nervous at first, but once he came into the studio and we got to talking, he put my mind right at ease."

To get a sense of who Rustie Blue is as a singer and performer, you have to tap into the musical influences she's had over the years. She reflects, "Elvis had such charisma and I liked his stage presence, the way he could entertain the crowd. So, he was a big influence." Rustie also admires Patsy Cline and Loretta Lynn. Of the latter, she raves, "I love her singing; it's so natural and [traditional] country. She's such a lady when she dresses! Sometimes, I wish some of that would come back! When I was in Nashville one year, I purchased a dress similar to what she wears, and I [wore it for the cover photo of my last album, Enter At Your Own Risk]. But, folks say that's too old-fashioned. They kind of updated me on this album!"

Rustie says she's thrilled with the success of Chip Chip. "I think it's moved me to that next level that I didn't have with my last two albums. My first album, That Oughta Do It, was more of a promotional album to get my name and music out there. Enter At Your Own Risk was promoted more overseas – I was booked in Europe, Australia, and New Zealand. Then, with this album, it was back to the U.S. again! I've really been out there in the press with this album. I've been in Country Weekly a couple times." Rustie's current single, 'Cloud of Dust,' was recently "picked" on Blair Garner's nationally-syndicated radio show AfterMidnite. "I'm not a household name, so I thought that was a really big honor." [AfterMidnite features just-released singles in daily phone and online polls where listeners vote to "Pick It of Flick It."] She's also been nominated for various awards, including a coveted win at the European Country Music Association Awards; she and Bill's duet "Chip Chip" won in the Vocal Collaboration of the Year category. "I was also nominated for Female Artist at the Music Box Awards in France. Instead of placing me in the category of New Artist, I was nominated alongside Gretchen Wilson, Martina McBride, Reba McEntire, Alison Krauss, Mary Chapin Carpenter, and Shania Twain. I didn't win – Martina won – but was honored to be nominated! I'm real excited about going over [to France]. We're working on that now, so hopefully it'll happens soon!"
And though having toured overseas and recording a hit duet with Bill Anderson have been exciting opportunities, Rustie discusses a different kind of "most fulfilling" career experience. "I just started my international fan club recently. There was a lady who is also from Ohio who joined my fan club – she e-mailed me that she had bought one of my songs 'I Wanna Be Me Again.' She told me that it totally changed her life and how much I've made a difference in her life. To me, I think that's one of the greatest things for an artist, to have people and great fans like that who really believe in you. I enjoy it and feel blessed that I'm able to do for a living what I love to do. That's been really fulfilling for me to get the appreciation of fans and the music industry." She adds, "It kind of blows you away when someone says that, because you don't realize at the time you're recording songs that just a song can have that much meaning and affect on someone's actual life."
If you want to know where you can get your hands on a copy of
Chip Chip
, it's pretty easy! "First of all, they can get it at my website
http://www.RustieBlue.com
, and I can personally autograph it for them. Also, my distribution is through
Honky Tonkin' Music
, and I have a digital distribution through
CD Baby
. It's also at Best Buy and Tower Records. You can also buy one song at a time at iTunes."
With the new year comes fresh goals, and Rustie confides that these are some things she would like to achieve this year: "If a record label came along that was interested and really believed in me, I think that would be great. That's a big goal for me: to move that next level, to also be able to perform more overseas at some bigger festivals. I want to go to the CMA Music Festival again this year – but this time, I'd like to have a booth; I didn't have one last year. I've also never performed on the Grand Ole Opry; that's a goal!"