By: Estella Pan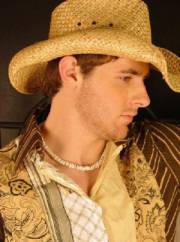 Chris Young has everything it takes to hit the "big time" in country music – good looks, ambitious and disciplined drive, AND a genuine devotion to give his fans great music through his albums and live shows. But, most impressive – and his most obviously important asset! – is his baritone voice that seems to glide smoothly over each note he sings. I asked whether others in his immediate family were also musical. "My grandfather is the other person in my family who can really sing. He plays guitar and piano as well, so ... that's where I get my musical talent from. He's a tenor and still sings with me every now and then." Chris names Keith Whitley, Sammy Kershaw, and Randy Travis among the artists who influenced him growing up. "Most recently, it's been a mix of everything! Even [songs] that aren't my style like Rascal Flatts – I really appreciate the stuff they do; it's different, but it's still good."

Chris dropped in a call to me minutes after he'd landed in Nashville the morning before he was to compete in the regional finals for the upcoming season of Nashville Star 4, to be aired on the USA Network. He recaps his whirlwind schedule for the weekend: "Last night, I played a show, got done about two in the morning, went back, packed, didn't go to sleep, went to the airport, and flew here to Nashville. I landed about thirty minutes ago and I've got meetings all day. Tomorrow, I've got Nashville Star all day long, and I leave Saturday morning for Texas to play a show. Then, I fly out Sunday for some shows in Miami, Florida." So, is he nervous about competing? "I'm not nervous. I'm glad to have made it this far. Excited? A lot of people ask me that and I feel bad saying 'no.' But, I have a lot of time to be excited after something happens with it." [NOTE: After our interview, Chris received word that he IS one of the Top 10 finalists who will compete to be the next Nashville Star - first episode airs March 14!! CONGRATULATIONS, CHRIS!!!!] He says he finally decided to audition after everyone around him had continuously urged him to do so in previous seasons. Perhaps it's good karma that he already has his own Nashville Star connection – he appeared in Buddy Jewell's video for "Sweet Southern Comfort." [Buddy was the show's first winner.] "I knew Buddy from before he had his deal. I auditioned for [a spot in his video] and got it – he didn't even know I would be in his video. I walked on his bus and he went, 'What are you doing?!' But, it was fun; I enjoyed it." [Next time you see Reba McEntire's "I'll Be" video, look for Chris, who appeared in that clip before doing "Sweet Southern Comfort."]
He continues to introduce legions of fans to his brand of music, most of which he also writes. Though he had a hand in writing all but one song on the album as well as several on his preceding debut album, Chris feels there is still room for improvement. He breaks it down for us: "It's much easier for me to be a singer, because I've had years of training to know how to do it. Even if somebody doesn't like how my voice sounds, they can't tell me, 'You can't sing.' However, songwriting is a much more objective art form. So, there are going to be all kinds of people who will say, 'Your songs are okay' or 'I really don't like your songs.' It's one of those things you have to figure out for yourself. There are rules and guidelines, but depending on who you ask, those could be different from person to person." But, he promises to "let you know when I write a song that I'm just head over heels in love with! There hasn't been one yet."

As for a new album, it's not a matter of if there will be one but rather when it was be finished. After completing two full albums and a Christmas project, many things continue to keep Chris busy – not that it's necessarily a bad thing! "I've been working on a new album for the last two years so we'll get there eventually! Every time I go in to record, something else happens." Good things come to those who wait, and I'm willing to bet every note of the new album that it will be worth the extra time lapse! The way Chris sees it: "I want to make the next project something to really be proud of. Not to knock any of the projects I've done before, but ...I want to make sure that I take my time [on the new album]." I then wanted to know if he had advice to offer others who are interested in getting an early start in the music industry early in their lives. "Yes! Don't ever let anyone convince you to do one thing at a time! That's happened to me several times. I've had two or three opportunities and I've tried to focus on one at a time, then I'm left with nothing – because by the time I find out that one falls through, it's too late for me to get involved in the other things that I wanted to do. So, if you're ever in a situation where you [are offered] two or three things, you might be very busy but do them all!"

For those who want to know something interesting about Chris that y'all didn't already know, listen up! Chris admits that he has to have his fill of cartoons! "I could not live without them! If you came to my house, you'd find me watching CMT, GAC, or Cartoon Network – one of the three." Of course, I had to know if he had any particular favorites, to which he says, "I'm not around a TV enough to have favorite programs. I used to, but then I realized that even if I was trying to watch an entire season, there's no way I'd see every show. And, I believe if I TiVo everything, I'd never leave the couch; so, I've stopped doing that because I don't have time for it."