By: Estella Pan
In 2006, Bucky Covington was a top eight finalist in the fifth season of American Idol. A year after his departure from the show, it's "A Different World." Last month, he released his self-titled debut album and also made his first-ever guest appearance on the Grand Ole Opry stage. Bucky called me from his home to share stories from his musical journey. Toward the end of our conversation, his identical twin brother, Rocky, joined in and provided a few laughs (the two share a house in Nashville)!
Bucky met music head on in his late teens, and there is one memory that remains vivid in his mind as if it happened yesterday. "I'm nineteen years old. It was beautiful outside! It was one of those days where everybody's washing their cars. I'm riding around in my little black S-10 pickup truck and listening to my Jeff Healy album. There's a song on there called 'Confident Man.'" He continues, "I've never in my life had a vision. But, as soon as I heard that song, I saw myself standing on stage, playing my guitar, singing, and wearing a pair of sunglasses – that's how detailed it was! It was so black and white. Was it going to be on a professional level? I didn't know. I just wanted to be on stage and I wanted to sing – or I at least wanted to try." With a dream in his heart, Bucky sprung into action. "The next day, I went and bought me a guitar! I just started teaching myself. I think the first song I learned to play was 'Summer of '69' by Bryan Adams."

Prior to pursuing a full-time career in country music, Bucky tested the waters of rock music – those days, however, were relatively short-lived. "I used to get really bad headaches, because it would get on high end and then stay on high end. It was like you could feel the blood vessels in your head go, 'Oh, chill out! Chill out!' I actually got a real scare one night, so I had to take a break. That's when it hit me: You know? I've always listened to country music. I need to try this country thing! I didn't go into country music [at first] because I didn't know anyone in country bands!" Fortunately, he quickly solved that problem. "I met some people in country bands, and from there, we took off! I was only ever in one country band before I auditioned for American Idol."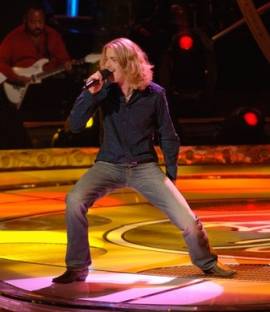 Bucky conquers his fear of big stages on AI!
This brings us to a crucial chapter in Bucky's life – competing as a finalist on FOX's hit reality series. "For about two years, I was working in the shop and it was just killing me! Everyday I got up and went to work, and I seriously started to feel like, Man, this is NOT what I need to be doing! I'm wasting my time. I need to go for it... I need to go for it... I need to go for it!" It was his sister-in-law who brought him the idea about auditioning for the show. "She told me, 'Hey, they've got tryouts for American Idol in Memphis, Tennessee.' I was thinking, Man, that is great!! But, there again, my dad, brother, and I work the shop. If Rocky and I leave for a couple weeks to go try out, the shop is short-handed." Fate was in Bucky's favor, allowing him to earn his shot in taking his music to the next level. He explains, "Hurricane Katrina had come along. One of the relief efforts went to Memphis and it cancelled out the tryouts. I kind of forgot about the whole thing. Then, my sister-in-law told me, 'You're not gonna believe this, but they just moved the American Idol tryouts to Greensboro, North Carolina!' That was just an hour down the road from my house! It was calling my name, so I decided, 'I'm doing it!'" He informed his family of his intentions to audition, and although he wasn't crazy about the idea, his father didn't stop his son from furthering his dream. "I went and talked to my dad and he said, 'I sure wish you weren't going for a week.' I told him, 'Yes, I know. But, I can't wake up when I'm forty years old and kick myself in the tail wondering What if?' It can either be 'yes' or 'no,' but I need to know." Turns out, as Bucky enthusiastically shares, "American Idol – hell, they gave me both of them – 'yes' AND 'no'! The "yes" came first, as after auditioning, Bucky found himself in Hollywood singing in front of a live audience AND millions of viewers at home each week. Rocky also auditioned for the same season, but didn't fare as well. "We didn't try out at the same time. He kind of clamed up a little bit, though, and they cut him the first round." Bucky says the most important piece of advice he took away from the show came from two of the judges, Randy Jackson and Paula Abdul: "It was in the first song I ever sang [on the show]. Both of them said, 'You just over-sang it. You really over-sang it!' I was thinking, What does that mean? I don't even know what that means! Well, when I went back to my room and caught the show, I went 'Oh, gosh! Yeah, I did!'" As for the best thing he learned from his experience on American Idol, Bucky says, "They got me used to being on a big stage. Playing in bars, you've got just enough room on most stages to stand. So, getting on a big stage was really intimidating for me." He confesses, "It really scared the crap out of me! Especially when you're there all by yourself, there's nobody else on the stage with you." He would, of course, overcome this minor setback and now, he's singing on even bigger stages!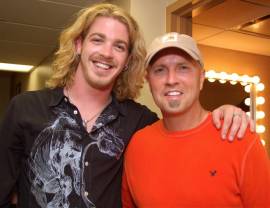 Bucky and Mark backstage at the Wildhorse Saloon
The exposure on the show ultimately landed him a record deal. Turns out, Mark Miller – who fronts the band, Sawyer Brown – heard about the promising singer/songwriter through his son, who was a huge fan and had advised his father to check him out. Watching Bucky's progress on the show, Mark liked what he heard and called the very next day after Bucky was sent home to express his interest in working together. With Mark overseeing the production of the new self-titled debut album, the two went to work. Bucky's first single currently impacting radio is "A Different World." He says the title pretty much sums up the gist of the song: "It talks about life of the world is different than it was 20, 30, 40, 50 years ago. Back when I was little, We got daddy's belt when we misbehaved – that was probably the truest for me than any other line in the song!" He continues, "Every song on this album I relate to in one way or another; that's the best thing about it. 'Back When We Were Gods' – back when you're in high school hanging out with your buddies, you don't have a care in the world. There's another one on there 'The Bible and the Belt' – I got one foot in Heaven and one foot in Hell/I found religion because of the Bible and the belt. There's a song called 'Hometown,' and the main line is: I hope Heaven's a lot like my hometown. Every one of those songs has got something I really love about it!" "A Different World" continues to climb (it's already within the Top 20!), and his album has done just as well, debuting at #1; it has sold more than 100,000 albums in its first month of release!

Knowing he and Mark had spent much time working on the album, I asked Bucky to share a little known fact about his new friend that fans might be surprised about. "He's a HUGE basketball nut! Not only does he love basketball, he is very, very good at basketball. He'd put a team together – managers, band members, and friends; their team would organize scrimmage games against colleges and will beat the college teams!" So, did Bucky get in on the action and shoot some hoops with Mark? He laughs, "Oh no! You can't get me to do that! I'm terrible at it!" He shares a trying memory he associates with the sport: "I remember when I was young, I was the kid that anytime I got the ball, people were yelling, 'Pass it! Pass it!' One time, I was wide open, so I said, 'I'm shooting it!' I shot that basketball and it bounced on the rim for at least five minutes… and then it bounced off! I vowed I'd never play basketball again! I was like, 'I'm done with this!'" Bucky might not be an all-star athlete, but he does enjoy spending time outdoors during whatever time off he can get. "In the spring or fall, with the weather like it is now, I have a street bike, I like riding motorcycles. When it's cold outside, I have this four-wheeler thing – it's like a golf cart – and I like riding around in that. And, in the summertime, I love boating and water skiing."

Upping any career to the next level also calls for some significant changes. Bucky says, "My lifestyle is kind of the same, but I am gone a lot more. I used to be able to go back home every weekend. In the summer, I might go boating and all that. But, I don't really have that option anymore, because I'm not home." The biggest change career-wise? "Well I don't paint cars anymore! That's a key thing! Now, I'm going to whatever I have to do so I don't have to get a real job! Sometimes, I've got to wake up at 4 o'clock in the morning, but at least I do want to do it!" Though he's not too fond of early mornings – his logic is this: "There's a reason why it's still dark outside, and that's because you're supposed to still be sleeping!" – you won't hear him utter one word of complaint because he's truly enjoying every minute of what he is doing now.
Bucky (right) reveals a secret about his rear.
Nearing our conversation's end, Bucky had a little trouble tackling my request for him to reveal something interesting about himself that not many people know. Getting the sense that he was drawing a blank, I suggested this would be a great question for Rocky to tackle. "Yeah, he'd tell you a good one. Of course, he might get me in trouble, too!" Nevertheless, Bucky ran up the stairs to consult his twin, telling me, "Here, ask my brother!" He handed the phone over to Rocky, who jovially informs me that "Bucky has a distinctive butt crack!" This, of course, invites laughter from all parties involved. Bucky dutifully explains, "I used to race motocross a long time ago. I cut my butt and it scarred me." His unique answer might have fans cracking up, but how he acquired that scar was anything but humorous. "I was about to make a pass on a guy, and he hit his brakes on me. When I came to, my bike was laying up on top of me, and they didn't cut the engine, so the back tire was still spinning in front of my face. Of course, I tried to get out from under the bike, but it ripped up my whole side and both legs… and it cut me on my butt!"

Butt scar and all, Bucky realizes that things could be a lot worse. His career is right on track and with the multitude of fans he has supporting him, it appears that he's doing pretty well for himself. "Yes, ma'am! It's been working out so far!"