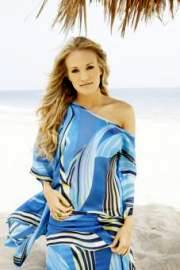 Who is she?
Carrie Underwood became a household name after winning the title of American Idol in the show's fourth season. But long before auditioning for the popular show, a dream of being a country artist had already taken precidence in the heart of the Checotah, Oklahoma native. She began singing during family functions and eventually for various events in and around her hometown.
Upon entering collge, Carrie chose journalism as her major. However, music had its pull and per her friend's insistance, she auditioned for American Idol; she took an indefinite sabatical from college to participate in the competition, and the rest plays out like a fairy tale! Each week, she charmed the show's judges with her powerhouse vocal ability; her wavy golden mane, superstar smile, and genuine down home personality help complete the package.
Carrie proved her staying power when she released her debut album Some Hearts on November 15, 2005 - the momentum from that album sent Carrie on a very exciting musical journey! She continues that journey in her sophomore release, Carnival Ride. The kickoff single from the album is "So Small," which is already a hit!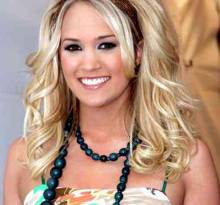 What has Carrie been up to?
REQUEST "So Small" - at radio now!!!! The video for it is now in rotation on GAC and CMT, so REQUEST!! Please continue to REQUEST Carrie's previous singles at radio and for her videos on GAC, VH-1 Country, and CMT!!

Carrie was just named one of People magazine's "Most Beautiful People of 2007." In the feature, Carrie admits, "I had a couple of freckles on my face that I didn't like, so I had them removed. And I remember one kid said, 'Now I can't play connect-the-dots on your face anymore!' I'll never forget that."

CONGRATULATIONS to Carrie, whose debut album has reach five million units in sales!!!! Take note that it's the fastest such certification for a female country debut in RIAA history!! Carrie says that she feels very fortunate to have begun her career with a fan base already in place. "It's definitely a lot to take in," says an understandably overwhelmed Carrie. "I think sometimes it doesn't quite sink in because at the end of the day for me...they're just numbers and I just want to sing." she laughs and adds, "But it's really cool that yeah, I do sit back at the end of the day and think 'Wow!'"

Carrie graduated Magna Cum Laude with high honors, receiving her degree in mass communications with an emphasis in journalism from Northeastern State University. Carrie says about this particular achievement, "I'm excited. I mean, I worked just like everybody else did to graduate and I think it's an accomplishment [because] I'm as busy as I am. But to me, education is really important and it's really going to be nice to have that diploma hanging amongst my awards and things like that, so that's going to be awesome."
When fans first met Carrie on American Idol, she had one semester to go at NSU in Tahlequah, Oklahoma. Winning the show meant she had to postpone finishing her degree. But since then, she's managed to fulfill her college requirements in time to graduate with her class. Carrie intentionally didn't draw a lot of attention to her college graduation. "I wanted to make sure that family got in [to the graduation ceremony]. That's a day [that] I'm normal... I am a college student graduating college like every other student that is there."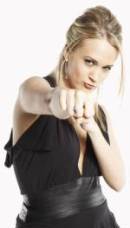 Did y'all know?
** Carrie says she started her singing career at age three singing in church. But, her first appearance was just heavy breathing into a microphone. She says, "I started singing when I was really little in church. I was supposed to sing 'Jesus Loves Me' with this other little boy. I took the microphone, and I held it really close to my mouth and I started breathing really loud. That's all you could hear in the church was me going 'haaa haaaa haaa.' So that was my debut."

** If you're ever on the road in the vicinity of Carrie's car, steer clear of her vehicle!! She admits, "I am the worst driver on the face of the planet. I've never had a wreck, knock on wood, but I do run into things quite often. Fences, parked vehicles, poles, just whatever. You name it. I run into it. So stay away!!"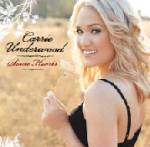 Where can I buy her music?
Y'all can purchase YOUR copies of Carrie's NEW album Carnival Ride by clicking on the CD cover to the right!! Also available for purchase is her debut album, Some Hearts!



Does she have an official site?