By: Estella Pan


Not only do country music songs reflect real life, but both the genre's recording artists and fans are also readily willing to extend a helping hand to those who need it. Bottom line: Especially during times of crises, country cares. And, on the evening of Thursday, December 8, it showed! Three powerhouse voices joined forces in lending support to Habitat For Humanity in Chrysler Financial Presents Country Cares: A Hurricane Relief Holiday Benefit Concert. Despite blizzard conditions that flooded the state, reigning American Idol Carrie Underwood, multiple Grammy winner LeAnn Rimes, and Timeless vocalist Martina McBride, and about 100,000 attendees filled the Palace of Auburn Hills in Detroit, Michigan, to celebrate an evening of wonderful music and share in the holiday spirit. The event raised $500,000, which will go toward the funding of multiple homes for hurricane victims.
Martina, LeAnn, and Carrie discuss their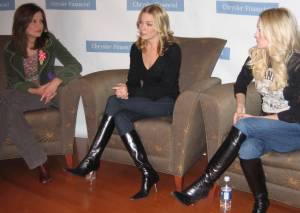 involvement with the Country Cares Concert


During a press conference preceding the concert, each artist expressed her concern and sympathy for the many families affected by Hurricane Katrina. LeAnn was personally affected, not only because she and her family spent several of her early years in Jackson, Mississippi – she also mentioned that the home of one of her guitar players was ripped to pieces when Hurricane Katrina tore through New Orleans. Martina McBride stated, "We've all seen on TV how devastating Hurricane Katrina was. It's our obligation...especially as artists' to reach out and help. Chrysler Financial's Vice President William F. Jones, Jr. added, "It has been a trying year for many Americans on so many levels that we at Chrysler Financial wanted to host an evening of giving back."
Martina, LeAnn, and Carrie are presented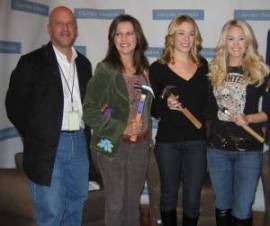 with hammers by Habitat For Humanity
Martina, LeAnn and Carrie get cozy with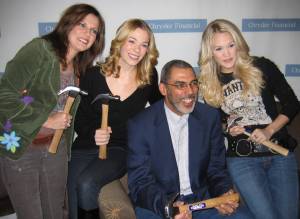 Chrysler Financial's VP William F. Jones, Jr.



The artists were presented with hammers and pins from Habitat For Humanity to commemorate their participation in the concert helping hurricane victims.





Carrie sings "Jesus Take the Wheel"
Carrie took the stage first, opening with "Some Hearts," the title cut off her debut album.
[NOTE: Click here to read my review of Some Hearts]
. She graciously thanked the crowd for coming to support a great cause and expressed her excitement for doing her first big show with her own band and sharing the stage with "two of my musical idols." She sang several other tunes from her album, including the smoky up-to-no-good "Before He Cheats," an emotion-filled "The Night Before (Life Goes On)," and her current single "Jesus Take the Wheel." Toward the end of her half-hour set, she gave a gorgeous acoustic performance of "Have Yourself a Merry Little Christmas," accompanied only by a guitar. She closed with "Inside Your Heaven," the ballad she sang immediately after being named
American Idol
.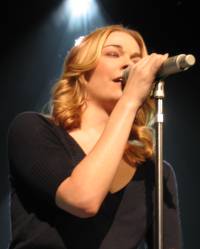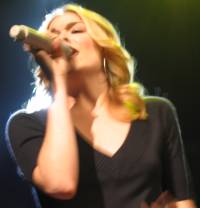 During her set, LeAnn offered tunes off her current album, This Woman, including "Nothing 'Bout Love Makes Sense" and "Probably Wouldn't Be This Way" and well as songs from her extensive repertoire, among them: "One Way Ticket," "Commitment," "Can't Fight the Moonlight" (from the movie Coyote Ugly). She also introduced and sang her upcoming single, "Something's Gotta Give." Then, she graced the audience with "one of my all-time favorite Christmas songs," the sultry "All I Want For Christmas Is You;" it is included on her holiday album, What a Wonderful World, released last year. Her crowd-pleasing take on Janis Joplin's "Me and Bobby McGee" drew a standing ovation. Of course, the night wouldn't have been complete without "Blue" (the song that catapulted the then-teen into international stardom) and "How Do I Live" (her biggest hit to date); LeAnn has never sounded more resilient delivering both, closing her portion of the concert with the latter!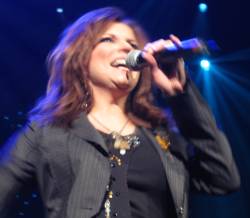 Martina lights up the stage!!
Martina rounded out the evening's performances exuding maximum energy and confidence in her opening tune "When God Fearin' Women Get the Blues." Amidst the ever-changing kaleidoscope of lights splashed onto an all-silver set of oversized lamps, arches, and winding staircases, she brought the best of hits from her decade-long career run, among them "Happy Girl" and "Independence Day." From her current album,
Timeless
, she sang four classics: "Help Me Make It Through the Night," "I Can't Stop Loving You," "You Ain't Woman Enough," and her current single "Rose Garden (I Never Promised You a Rose Garden)"
[NOTE: Click here to read my review of Timeless]
. Her soaring and deeply moving rendition of "Somewhere Over the Rainbow" brought the audience to their feet. During the song, a slideshow of photos depicting the massive wreckage caused by the hurricanes flashed on an overhead large screen.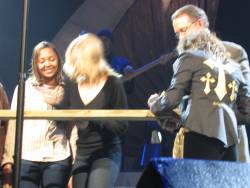 LeAnn and Martina sign the 2x4 wood board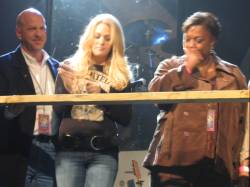 Carrie signs her autograph on the board.
After an especially moving "In My Daughter's Eyes," Martina called to the stage Chrysler Financial representatives and introduced a mother and daughter who lost their home to Katrina. During a inspiring moment, a set of house keys to the new home built by Habitat For Humanity were handed to mother and daughter. Then, two crewsmen brought out the last piece to the new home – a 2x4 wood board that will become part of the front porch – which Carrie, LeAnn, and Martina signed. After the presentation, Martina brought the house down with Pat Benatar's "Hit Me With Your Best Shot." Another highlight was her accapella version of the Christmas favorite "O Holy Night," the closing song of the evening.
Keys for the new home are presented.
Their collective gifts of voice and passion for helping to spread the joy and power of music as well as some holiday cheer no doubt provided an unforgettable evening full of touching memories for all in attendance!