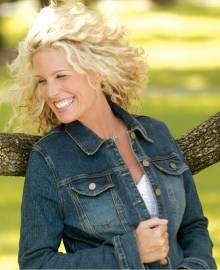 Estella: Last month, you attended the CMA Awards in New York. Was it your first time?
Joey: I went last year, but I was in the audience. This was my first year to walk the red carpet and go backstage.

Estella: Did you have fun?
Joey: Oh, it was crazy because every time you turn your shoulder, it's like, "Oh, my gosh, there's Dierks Bentley! There's Rascal Flatts!" I got to meet quite a few [artists] there; it was great!

Estella: You're originally from Canada, correct?
Joey: Yes. I grew up in a little town called Creston in British Columbia.

Estella: Your speaking and singing voice so closely resembles Shania Twain so much that talking to you is like chatting with her! It's kind of fun, actually!
Joey: I'm the blonde Canadian!

Estella: Did you get to meet her at the CMA Awards?
Joey: You know, she's the one person through everything that I haven't gotten to meet, and I absolutely want to meet her! I love her music, but I just haven't had the opportunity; I can't wait to though. I watched her in interviews and things, and she seems so down-to-earth and sweet. She does it for the music at the end of the day.

Estella: What inspired you to pursue a career as a recording artist/songwriter?
Joey: My family – just growing up around music and having it around us all the time. I love songwriting more than anything! Songwriting, recording songs, and performing – there's nothing else I'd want to do!

Estella: I noticed that you wrote several tracks with your brother. Is that easy writing with someone whom you're so close to?
Joey: Yeah. You know, we've been working together basically since we were little. We didn't write when we were really little. But, when we got older, we started writing together, and we go through different processes. I'll come up with a melody and lyric for a verse, and then we'll sit down and go from there to work on the chorus together. He's a very good piano player, so he'll come up with great chord progressions. So, he'll sit and play something and I'll sing over top of it. It's really relaxed, because I do a lot of writing sessions, and it's kind of odd when you go in and meet someone, you've only known them ten minutes, and you're supposed to feel relaxed enough to write about your life – which is the most personal subject. I guess when I write with my brother, he probably knows almost everything about me anyway!

Estella: The style of music that you write varies with each song. If you listen to "Swinging Door" or "Take Me Off the Market," they're completely different from a song like "Miracle."
Joey: Yeah, and "Believe" – that's has a totally different feel to it, too! It's funny, because I've got CDs [of songs I've written] from like ten years ago to yesterday, and I was looking through them and going, "This song would be great for that artist and this one would be good for this artist!" I would say about 70% of my songs have a country flavor to them. And then I write rock, pop, R&B. But, somehow that all works into my own country sound. For fans, it's cool to listen to an album and not hear the same sound for every song, because it gets boring.

Estella: Did you have a lot of musical influences growing up?
Joey: When I was wee little, I was totally obsessed with [the musical] Annie. I loved that! Then, I went from that to Anne Murray, Linda Rondstadt, Emmylou Harris, and Carly Simon. Then, I got into Heart in the 80s big-time! My grandparents listened to nothing but country. So, when I went to their house, it was all country, day and night. We used to go on our family road trips with my parents – where I grew up, it was a small town of 3,500 people – and we'd have The Beatles and The Eagles playing. Then, my one brother would want to hear Boston, KISS, and Led Zeppelin. And my other brother, he's a piano player, so he was always listening to jazz. Now that I look back, I don't know that most families are like that, but we each always got one hour to be DJ in the car, because our musical tastes were so diverse. So, pretty well, I had influences coming from everywhere!

Estella: That's really neat that your parents allowed each of you to have your hour of music on each road trip!
Joey: Yeah! Otherwise, it would have been a war!

Estella: What kinds of songs can you fans expect on your new album Take Me Off the Market?
Joey: It's not your typical country album, and it's definitely from a woman's perspective! Most girls and women are going to relate to this CD, but of course, there are some songs for the guys, too!!

Estella: About the title track of your album, did you write that from personal experience or because of someone you knew?
Joey: That was for me! That's the story of my life with relationships! I'm still single, not taken off the market. My best friend and I know so many other girls who are married and have kids, and we think, What is it? What secret do they know?

Estella: It's like "Come on, already!"
Joey: I know! I don't get it! Am I that horrible?!

Estella: "Swinging Door" is your current single, which you also have a video for. Sum up the video making experience.
Joey: It was fun! I got to work with a dog named Chicken Dog! I guess she's scared of everything, and that's why they named her Chicken Dog. People say "Never work with dogs and kids," because I guess they're hard to work with. But, she was so good! I think she was working for hot dog treats – every time she did something good, she'd get one.

Estella: Who is the director on the video?
Joey: Peter Zavadil, who also directed Sugarland's "Baby Girl" and Sara Evans, all of her latest videos. [NOTE: "Suds in the Bucket," "A Real Fine Place to Start," and "Cheatin'"] He's great!
Estella: Is your album available to fans off your website?
Joey: It is for sure! My website,
http://www.JoeyDaniels.com
, WalMart, Best Buy, Tower Records – you name it, it should be there!! So, pick up a copy or two!
Estella: When writing, which comes first for you, lyrics or melodies?
Joey: To me, there's a perfect match out there for every lyric and melody. I don't know where it comes from, but I'll be singing a melody, and all of a sudden, the lyrics will just come. I don't like to struggle at either, because if I work too hard at it, then it becomes pushed and false.
Estella: If you could record a duet or write songs with anyone, who would you choose?
Joey: I would love to sit down and write a song with Shania! I think she's a really great songwriter; I don't think she gets enough respect for that. I would like to have her in the studio, as far as recording and producer. Her husband [Robert John "Mutt" Lange] is an amazing producer! People have asked me, "Have you two met?" And, I'll say, "No, I'd like to meet her and to writh with her." And, they'll look at me like, "Yeah, right, like she'd want to do that! You'd be competition!" But, I'm thinking,
No, she's Canadian. We're not like that – we wouldn't hate each other; we'd be friends!
Other artists – John Mayer, I think would be really cool to work with. And Keith Urban – he's a real cutie!
Estella: If you could perform anywhere in the world, where would you choose?
Joey: The Grand Ole Opry is a place I would like to perform for sure! I think, too, that it would be exciting to do a show back at home in Canada, where my parents and my whole family can come. It'd be neat.
Estella: So, you're currently living in the states, then?
Joey: Yes. I'm in St. Petersburg, Florida. It's funny how life goes – I started up in Canada, then my brother and I moved down to L.A. for a while. Then, I ended up getting my record deal, which was in St. Petersburg. They now have an office in Nashville, too, so I've been traveling between here and Nashville. When I first moved here, I had never been to Florida and I didn't know what to expect. I mean, I had watched
Miami Vice
as a kid, and it's basically like that…beaches and hot water – it's cool! It's a great place to write!
Estella: Speaking of places to write, what is YOUR favorite environment for songwriting?
Joey: Definitely late at night in my living room or in the car. I'll turn the radio off and usually come up with something just driving.
Estella: When an idea comes to you in the car, how do you capture it before you forget it?
Joey: I've done it so many times it's [second nature] to me. I phone my answering machine and I always have as many possible messages saved on there as they'll let me, like 15 to 20 messages. Then, I'll go back and listen through and think,
What was THAT?!
Sometimes, I'll say, "Oh, I like that!!" Then, I'll take it from the phone and record it on a proper device in my house so I'll have it down.
Estella: If I'm not mistaken, Keith Urban does the same thing – he'll call his cell phone and leave himself voicemails with song ideas. Hey, that would be your way in next time you meet him!
Joey: Yeah! We have that in common and my dad's name is Keith! We have the same way of thinking when it comes to recording, Keith! (laughs)
Estella: Well, there you go! What is something interesting about you that fans may or may not know about you?
Joey: I've got a little dog named Buddy. He's a five-pound Yorkie – little Toy Terrier, and he's very cute! There's a picture of him in my album jacket and he's wearing a cowboy hat! And now that I'm talking about him, he's coming to sit on my lap! He's adorable!