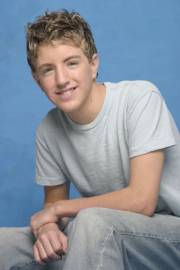 Estella: What has it been like breaking into the business at eleven years old and releasing your fifth album at barely seventeen? [NOTE: At interview time, Billy was two months shy of turning seventeen.]
Billy: People say, "...at only sixteen!" I look at how much I've done and it's like, "My gosh!" I'm so blessed to be able to do what I do and to do it to such a full capacity. It's been a wild ride! I'm so grateful for what I've accomplished, but I have a lot more to accomplish!

Estella: What is your favorite part of what you do?
Billy: Seeing and meeting fans and hearing what they think about me and my music. Singing is great, but singing for the fans and meeting them is my favorite part!

Estella: You had life-changing experience when your voice started to change, and of course later, you were put on complete vocal rest. What was it like not being able to say or sing anything?
Billy: There were times where I'd go two or three weeks at a time without saying anything! It was very, very depressing. Especially for me, when I sing, I'm a belter – an open singer; there hadn't been a day since I was three years old that I didn't go without singing or humming. So, to be told not to sing at all or talk – nothing – because it could damage your voice for life, I wanted to crawl into a corner and die! I was like, "Please break it to me gently!" But, my voice is back; I have a new album coming out. It gave me a chance to really reflect on the kind of music I wanted to do – which was country music. It's what I grew up on; it's what I love. Estella: How would you describe your musical style? Billy: Everyone says that I have an old soul. And, I thank them for that, because that gives me an opportunity to sing "deeper" music that a kid my age probably wouldn't sing, songs like "One Voice." So, I'd say my musical style is today's country with a little bit of pop flair to it.

Estella: Tell us what we can expect from the forthcoming album called Everything and More.
Billy: It's very different. There are some very edgy songs on there; the last song is very edgy. "Awaken the Music" is actually the music of Mozart and we put a rock form to it. It's really awesome! Every other song is very country; there's a bluegrass song on there. There's rock-country like the stuff Gretchen Wilson is doing. So, there's all aspects of country.

Estella: The first single is the title track, "Everything and More." Tell us about the song.
Billy: It's a very "Til I Can Make It On My Own" Tammy Wynette kind of song.

Estella: If you could work or tour with any artist, who would that be?
Billy: Right now, it would be a tie between LeAnn Rimes and Gretchen Wilson. And then, on a different aspect, I'd love to do a show with someone like Barry Manilow!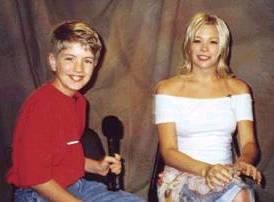 Billy with LeAnn Rimes
Estella: Who were some of the artists you grew up listening to?
Billy: George Strait, Eddy Arnold, Patsy Cline, and LeAnn Rimes. One of the first songs I sang was LeAnn's "Blue."

Estella: Course, back then, you could pull that off!
Billy: Absolutely right! I try to do that now, and I just can't yodel anymore! But, LeAnn was a major influence on my career when I was first starting out.

Estella: Was it also inspiring for you, watching her break into the business at a young age as well? [NOTE: LeAnn became an international sensation at the age of 13 with the release of "Blue."]
Billy: Yes! It gave me hope and courage to be able to be a kid and love music and make records. She was really a great inspiration to me.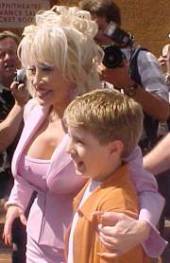 Billy with Dolly Parton
Estella: When you first started your career, what was the best piece of advice you received?
Billy: Dolly Parton said to me when I was eleven years old, "Be careful kid, because you're in this for the long run! Just be careful and pace yourself." It was like, wow! Someone so huge would offer that to me.

Estella: Are you into songwriting at all?
Billy: I'm into the music part. I do like writing music arrangements, but I'm not a songwriter. I try, but it doesn't work out. But, as long as I sing, I think I'm alright.

Estella: Especially now that you've got your voice back!
Billy: That's right! It is back!

Estella: I read somewhere that you occasionally have problems with your ears. Is there any truth in that or was that straight from the rumor mills.
Billy: I do have many problems with my ears. I went through a seven-and-a-half-hour surgery with my ears, but that was when I was very young – like when I was nine years old. But, there have been times when I'd go on stage and I couldn't out of one ear, because it was so plugged; I just had problems with that. But, they're fine right now!

Estella: I was going to say, it didn't seem like you had a problem with that now!
Billy: Not right now; knock on wood.

Estella: Do you have a favorite song, album, or video of your career thus far?
Billy: I like the new album. It really reflects who I am now. I think it's who I wanted to be. Even though I'm sixteen, I really have grown up a lot. This whole album is a reflection of how I've grown, different aspects of my life – just great country music sounds! And that's why we named the album Everything and More, because it really is everything and more in the country music aspect.

Estella: What are your short- and/or long-term career goals?
Billy: I always think short-term, never long-term or set the bar too high; I always live in the moment. I would like a hit record with the new album. Is it happens, great! If it doesn't, there must be a good reason, because I'm here to sing. My new album really states that – I'm back and I'm here to stay!