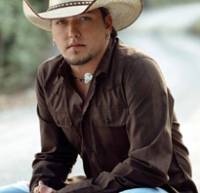 Estella: When did you know you wanted to be a country singer?
Jason: I didn't really know I wanted to pursue it as a career until I was probably a teenager, maybe around seventeen years old. Up until that point, I always thought I'd be a baseball player. But, I started playing music when I was about fourteen, then I started playing in clubs. I think music is one of those things where, once you start, it gets you, and you can't help but want to do it more!

Estella: When did you start writing songs?
Jason: I started when I was about eighteen or nineteen, and the first few I wrote were pretty bad, actually!

Estella: Hey, you've got to start somewhere, right?
Jason: Yeah! But, nobody wanted to hear those!

Estella: How would you describe your debut album?
Jason: We just finished recording the album; I think it's edgy and aggressive, but it's the kind of record where there's something for everybody to listen to. It's not all uptempo; we've got some laid back songs and ballads on there, too! If I had to use one word to sum it up, I'd say it is aggressive country.

Estella: "Hicktown" is the first single about to be released. What is the song about?
Jason: "Hicktown" is about just growing up in small-town America, basically – people who don't live in a big city and how they go about having their own little parties. It's a fun song!

Estella: Will there be a video with it?
Jason: We actually just got done shooting the video for it, which turned out really cool! I think it's really going to paint a picture of what the song is about; the director did a great job capturing what I wanted to capture in the video. So, I think the people who see the video are going to "get" the song even more!

Estella: Who directed it and can you give us a sneak preview of what to expect in it?
Jason: The video was directed by a guy named Wes Edwards. We actually played a show down in Fort Myers, Florida, and the club owner of the place we played knew of this spot for the video. He said, "Hey, let me help you out! I'll get a bunch of people out there!" So, we ended up shooting the video at a place called Palmdale, Florida, out in the middle of nowhere; it was just a big mud field, basically. We had two flatbed trailers set up for our "stage" and these big monster trucks showed up all day. People just came out to have fun; it wasn't so much that they were in a video – they were just doing their thing, and Wes caught it all on tape! Then, we shot me doing the performance sequences. I like it, and I hope people are going to like it, too!

Estella: How would you describe your musical sound and style to people?
Jason: I wouldn't as describe it as hard-core country, and I wouldn't describe it as pop-country, either. Aggressive is probably the way I would describe it, but not so much that it isn't "country." It's definitely country, but with a little flair to it! There are some songs on the album that might come off as hard-core country, but overall, it's edgier.

Estella: Who are some of the artists you grew up listening to?
Jason: Alabama. I was a big Alabama fan, a George Strait fan. I like John Anderson; I'm a big fan of his. Tracy Lawrence was a big influence for me, vocally. But, I listened to the music of Guns 'n' Roses, and stuff like that, too! I went from listening to Guns 'n' Roses to Alan Jackson and Clint Black! My musical influences are spread out across the board. I guess what creates a sound for each individual artist is what influenced him or her early on, and for me, it was a lot of different things.

Estella: What can fans expect when they see your live show?
Jason: Energy! I have a really cool band; they're a lot of fun! [Being on stage] is kind of like our time to play, so we get up there and have fun! I'd say that people who come to my shows can expect to have fun and be entertained. A lot of times, we'll go play the show, then go hang out in the crowd with the people. We just like to have fun and always make people want to come back the next time we're in town. That's our main goal: if we make sure they have fun this time, they'll always come back!

Estella: Before signing with Broken Bow Records, you had other record deal offers that didn't pan out. What drove you to keep going?
Jason: The music business just "gets" you – once it gets a hold of you, it's hard for you to let go! This was one of those things that I don't really know why. Because giving up was actually an option for me. But, I had my wife and a daughter who was six months old at the time. Then, I met my manager during that time, so right when things were looking really bad, all of a sudden all these other doors started opening up for me! There began to be a light at the end of the tunnel. Being a musician, I think there's always that hope that everything is going to pan out; it's enough of an incentive to stay in there and stick it out. Like with me, I had, at that point, invested so much time into it that's like you don't want to give up, having done all that work for nothing.

Estella: What is something interesting about you that fans may or may not know about you?
Jason: That might take me a second to answer! I guess I could say that I'm a big college football fan.

Estella: What's your favorite team?
Jason: I'm from Georgia, so it University of Georgia – the Georgia Bulldogs, that's my team! I'm also a big Braves fan. When I'm watching a game on TV, I kind of turn into a ten-year-old again – ranting and raving, but I really get into that! That's one of my past times is keeping up with my favorite teams; the Georgia Bulldogs and the Atlanta Braves are my two teams that I kind of live and die by!

Estella: What are some of your professional short- and/or long-term goals?
Jason: Short-term is really getting out there and playing shows for people. A lot of people don't really know how I am right now, so my goals are to play my music for as many people as I can to get my name out there. Long-term is to try and hang around for a few years and not make this something that only lasts a year or two. I want to make thing something I can have a long-time career on – have it stretch out into fifteen to twenty years like Alabama and George Strait have done. That's why I respect them so much – they've been around for so long, and they're still just as great now as they always were!

Estella: If you could work with any artist or songwriter, within the country music genre or not, who would you choose?
Jason: There are a lot! Artists – for me, in country music, would be Alabama, because I've been a fan of theirs since I was a kid. But, I haven't had the opportunity to meet them or hang out with them yet! That would definitely be an honor to work with them at some point. Someone other than in country music would probably be the band Three Doors Down. I'm a big fan of their music, so I think it would be cool to work with them! Songwriters – I've written with some great songwriters already. But, there are so many here in town that I would love to work with that I wouldn't even know where to begin on that!