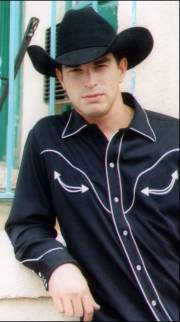 Estella: What made you decide to become a country singer?
Victor: I started in a junior high band, playing the guitar. Well, we needed a singer, so I said, "Well, I'll try it." [My fellow band members] said, "Man, you sing good; keep doing it!" At about the same time was when George Strait started to have his first hits, and I just realized that's what I wanted to do, too!

Estella: Did you grow up listening to country music?
Victor: Yes. My dad and mom are Hispanic; my dad doesn't really speak English, but when he did listen to English-speaking music, it was always country music. It'd be Merle Haggard, Hank Williams [Sr.], and Buck Owens.

Estella: Who influences your sound?
Victor: I'd have to say that my sound is definitely influenced by Buck Owens, George Strait, and Merle Haggard. Even though we do songs that are more modern, those three are my core influences. The new sound that we're doing is straight-ahead retro-country. We wanted people to know that I'm a "country" singer, not so much as a pop singer.

Estella: How is your new album different from your previous album?
Victor: With this one, we went a little bit more hard-core country. We did some more Bakersfield-sounding music – like, we did an upbeat remake of "Hello, Walls" and we're getting a lot of people saying they love it. I wanted to get retro-country feel back into [the music], that's the main difference. The first one was aimed more at radio airplay.

Estella: How did you hook up with songwriter and fellow recording artist Billy Yates?
Victor: We had done a couple of shows together in 1997 with Merle. I was a big fan of [Billy's] and he said, "If you ever come back to Nashville, give me a call." So, I did! Since then, we've become friends. When I called him, I had the Destination Unknown album out and he had just released a new album. Music is, of course, a common denominator, but he just said if I ever wanted to work with him, "Let's do it!" And, that's what we did with "Hey Country."

Estella: What's the idea behind having an eight-track album, as opposed to say, ten-track album?
Victor: I didn't want to put something on the album that I wasn't really proud of. Since I felt really strongly about these, I said, "Let's just put the eight [songs] on there." So, that's what we went with.

Estella: Was there a specific vision you saw where you wanted to take the new album?
Victor: When I was talking with Billy about this album, he said, "You know, Victor, you're from Bakersfield. You ought to incorporate that into your music." He said, "Being from Bakersfield, nobody's going to say, 'Well, that guy's from Nashville. What's he doing?' So, you're open to do something different." Because artists like Buck and Merle were doing stuff totally different from what was going on in Nashville at the time. So, Billy led me in that direction and said, "You can do whatever you want, but keep it country!"

Estella: Do you have a favorite track off the album?
Victor: I do; the title track "Hey Country" because it's so different. It's a Jeffrey Steele-written song, and he does some crazy writing here and there. And, this is crazy – it's kind of a Big & Rich type of song. We recorded all these retro-country songs, and then we threw that one in there. But, it's a very cool song, and when we do it live, fans love it!

Estella: Have you ever met Jeffrey Steele?
Victor: Yes! Bob Kingsley is a good friend of mine, and back in 2000, he invited myself, Keith Urban, and Jeffrey Steele to dinner after the ACMs. Now, this is right around the time Keith was started to hit the "big time." Jeffrey and I hit it off and we became good friends. He's awesome!

Estella: If you could work with anyone in the music industry, who would you choose?
Victor: I'd have to say George Strait. I've gotten to work with Merle and Billy [Yates], who I think is one of the greatest country singers and songwriters out there. I've done a show with Brad Paisley, but if there was ever an opportunity to do a song with him, I'd take it!

Estella: You've mentioned some great songwriters like Billy and Brad. When did you get into songwriting yourself?
Victor: The first song I ever wrote was in junior high and it was called "Let's Go." I don't remember how it goes or anything, but that's when I started. More recently, I've gotten to write with people like Billy and Jeffrey. Course, I haven't had a hit like they've had, but getting to write with them, there's an opportunity there. Writing is something that not everyone can do and do well. So, I'm striving to get to that point, where, when people hear one of my songs, they'll say, "Now, that's a great song!" I think it was Lee Roy Parnell who told me, "You'll write a thousand bad songs. It only takes that one [to make a hit]…but you've got to find it!"

Estella: What is your favorite part of what you do?
Victor: Meeting people and seeing how excited they are to see me; that's the biggest part of it. Then, when you're doing a show and you see people singing your songs, that's awesome!! There's nothing better than that!

Estella: When people come to your live shows, what can they expect?
Victor: To get fired up! We do ballads in our show, but our strongest points of our shows is getting out there and having fun on stage! I move all over the place, so you've got to keep your eyes moving with me! I don't like to stand in front of a microphone and just sing. I like to grab the mic – most of the time without my guitar – and work the stage; I think most people enjoy it.

Estella: How do you balance what you do in the music business with your family life?
Victor: I have my wife and three kids. It's tough, and I don't know that I have an answer. But, I've been married for twelve years. I think the main thing is having an understanding wife, because if you don't, it's not going to last. My wife said that she'll never pull me back from what I want to do. Because really, when you get into the business, family kind of suffers, and she's been the rock for everyone. I mean, without a support system, you can't really focus on your music if your personal life is falling apart.

Estella: What is something interesting about you that your fans may or may not know about you?
Victor: Well, they probably don't know that for two years, I used to pick up Buck Owens' trash at his house! I was a trashman and Buck's was one of the houses on our route. So, for two years, I used to see him at 6 AM and he'd come out and waved to us. Then, a couple years later, he invited me – not because I was his trash guy, but because I was singing!! – to his Buck Owens Birthday Bash! That night, I told the story about picking up Buck's trash and people got a big kick out of that!