Who is she?
At the age of 18, armed with influences of Loretta Lynn, The Judds, and other country greats deep within her impressionable soul, Terri Clark moved to Nashville, "knowing no one and little else." It's been her persistance that has allowed her to continue a successful 10 years plus run in the music business.
Terri often jokes that she's made a career out of being p*ssed off (refering to the angst-filled nature in several of her hit songs). But lately, she's couldn't be happier.
All those years ago, Terri packed "dreams bigger than Canada" and headed to Nashville with her mind set on going to the Grand Ole Opry. That dream became Terri's reality seventeen years later as she was inducted into the Grand Ole Opry on June 13, 2004.
"Look, I'm not everybody's cup of tea, but I don't worry about that. My energy goes into living and the people who dig my music, because that's where the power and the joy are. Music is a vehicle to make an impact, to connect with people. Music is so powerful; you must respect it, because of what it can do. It moves people to fall in love ... it can be therapeutic or an escape from the reality of their lives. Done and listened to properly, it can be whatever people need it to be." And, in Terri's case, it still leaves time to have fun! Catch any one of her shows and she likely do her dead-on singing impersonations of the late Johnny Cash and John Anderson, among others. Perhaps it's her self-assured and laid back attitude that continues to draw fans to her - or her passion for music: "I just want to grow and be doing this for a long time. And that's why I wanted to be a country artist, part of is I just love this music and the fact that you can play country music for as long as you want...and now, being an Opry member, I can play until I'm 90, not that anyone would want to hear me then!" In either case, Terri's music offers something for everyone!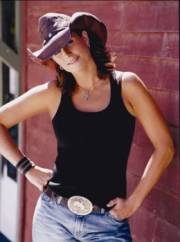 What has Terri been up to?
Be listening for "Dirty Girl" - Terri's NEW single - coming in April!! Please continues to request all of Terri's previous singles at radio and videos on GAC, VH-1 Country, and CMT!!

says she had a hand in writing her new single, "Dirty Girl," in a roundabout way at least. "It was written by Tom Shapiro and Rivers Rutherford, and they originally wrote the song for a guy," Terri says. "The first time I heard it, it really caught me. I loved the melody, I loved the music, but it was a guy singing to a girl, saying, you know, 'I like it when you get a little dirty, girl. I like it when you get cleaned up on Sundays.'"
So Terri spent some time reworking the song, and Tom and Rivers loved the changes. "Rivers is from Mississippi, so it has a little bit of that grit to it that I really love, and it's tough," she says. "I have a good time singing it. We've been playing it in the show for six months, and people have been going crazy over it since day one. They really love it, especially the part where I go, 'I'll be your dirty girl.'"
The song will be included on Terri's debut album, due to release this summer.

With the new year comes new goals, and Terri and the band and crew are ready to take everything to the next level! Last year Terri became the newest addition to the Sony/BMG roster of artists, signing with the BNA imprint. For the last several months she's been busy behind the scenes, recording new music with producer Garth Fundis. The first new song from those sessions, "Dirty Girl," will be released as a single in early April. Terri debuted the song during concerts last fall, and it has quickly become a fan favorite.

Following her induction into the Grand Ole Opry - the only Canadian woman in the history of the famed establishment - Terri was both humbled and thrilled at the artists who reached out to her. "Trisha Yearwood sent me the most beautiful flowers...and we've both been at it for long enough, that I know she knows what that meant to me! And Loretta Lynn sent flowers to the Opry, too, that night - which just blew my mind. I mean, Loretta Lynn! LORETTA LYNN sent ME flowers. It just doesn't happen like that. Even the idea that she knows who I am...That just boggles me, because you take the Manuel jacket with all the rhinestones off, and it comes down to one simple truth: I've never gotten over being a fan.

Terri says she's glad to see jeans-wearing, traditional female country singers like Gretchen Wilson come along, giving her more reason than ever "to never to have to wear a dress." She adds, "It's great to see women empowered now. It's a great time to see us doing butt kickin' country music and I've been doing it for 10 years and there's no reason to stop now. I feel like I'm just hitting my stride and just starting now and it's just getting to be more fun."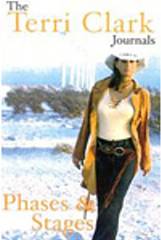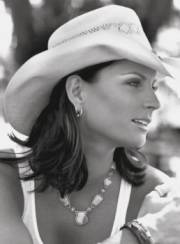 Did y'all know?!
Terri can add "author" to her résumé!! Her book Phases and Stages: The Terri Clark Journals is available for purchase by clicking on the cover of the book below!!

Rocker Sammy Hagar is a Terri Clark fan!! Here's the scoop: after a show (during the 2004 Throw Down Tour w/ Toby Keith), Sammy had been to the show. Terri says she felt the pressure when he invited her to get up and sing at his club where he'd invited all the folks from Toby's show. "So when he asked me to sing, I was like, 'What's the hardest thing I can pull off...' - because you also don't wanna not come across with the goods - so I went for 'Hard To Handle.' And when I looked over at him out of the corner of my eye, he was digging it... he actually told me I rock pretty good for a chick, which coming from him I'll take as high praise."

One of Terri's day jobs in Nashville when she was trying to get discovered, was selling boots to folks like Johnny Cash and to Reba McEntire. In Reba's case she was buying her young son Shelby's first pair of cowboy boots. "When I first went out on tour with Reba and Brooks & Dunn, we talked about that - and she actually remembered me! That's what makes Reba 'Reba'...her incredible gift for remembering little things like that mean so much," Terri recalls. "And one day, she said they had something on the bus for me... All wrapped up, it was a photo that Shelby signed to me of him at 2 1/2 years old, wearing those cowboy boots. "We did a show together last weekend - and we talked about that again. About how you never know who the person bringing you your food or working on your car may end up being, and that's the magic of Nashville."





Where can I buy her music?
Terri's current album Life Goes On is available now!! Her previous albums are all also available. Purchase YOUR copies of Terri's music by clicking on each respective CD cover.