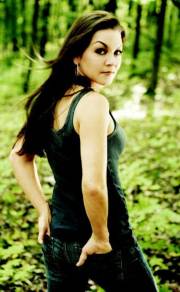 Who is she?
She's country AND a whole lot of rockin' fun!! Gretchen Wilson singlehandedly won the hearts of both men AND women in barely FIVE weeks!! The overwhelming success of Gretchen's "Redneck Woman" propelled the successful release of her debut album Here For the Party! Even better is the fact that Gretchen earned the hit single by deciding to simply be herself. She says that "Redneck Woman" was written because she "wanted to give a little high-five to the women from small town America. The women I grew up around are strong and proud of who they are. This is for them." That same philosophy is evident in every single song on Here For the Party. The followup was the fiery title track; the video was filmed during CMA Music Week in 2004. Just when people started to form this image of her as nothing but a quintessential "party girl," Gretchen countered with the release of her bone country ballad "When I Think About Cheatin'." The thing about Gretchen is that she doesn't just talk the talk; she's actually lived the songs that she writes! Her mother gave birth to Gretchen at 16 years old, and her father left when she was just 2. With her mother dealing with drugs and alcohol use at the time, Gretchen and her younger brother were mostly raised by their grandparents. At just 14 years old, Gretchen was doubling as a bartender and bouncer at her local pub in Pocahontas, Illinois! Wanting a career in music more than anything, she moved to Nashville in search of a record deal in her early twenties. Four long years and many rejections later, John Grady, head of Sony Nashville, signed her.
Gretchen lives up to the hype that has been created about her (she wrote the majority of the songs on her debut album)!! There's is a real rawness to her singing AND songwriting that she's not afraid to lay out in the open. Country fans rewarded her by snatching up her debut album and skyrocketing sales to over four million!!!! She has just released her followup album, All Jacked Up, and with the way things are going for her, there is little doubt that Gretchen will escape the wrath of the infamous sophomore jinx! As far as country music and fans go, Gretchen is not only Here For the Party, she IS the party!!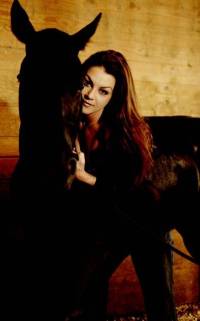 What has Gretchen been up to?
REQUEST "Come to Bed" - Gretchen's NEW single - at radios now!! The video has also been added into rotation at GAC, VH-1 Country, and CMT!!

Gretchen and Billy Ray Cyrus' daughter, Miley, have struck up quite a friendship. Noting that the two "are always emailing each other and talking about different ideas," Billy Ray says Miley and Gretchen are "really a good team" and "could really write some great songs together."
There are, in fact, plans to have the "Redneck Woman" make a guest appearance on Miley's hit TV show, Hannah Montana. Gretchen says that would make her a huge hit at home and that her daughter Grace would also love to share the small screen with one of her favorite actresses. "Well, we watch Hannah Montana about 15 times a day at my house," Gretchen says. "She's a pretty big star and obviously my daughter just idolizes her...thinks that she is 'it.' I hear catch phrases from 'ya think?' and 'sweet nibblets,' all the time. Those are like common phrases around my house."
Gretchen says Grace is very eager to appear on the show. "I think I got her dad kinda talked into it," she says. "He's more about, you know, 'Keep it down. Let her be a kid,' and I think she is being a kid and she really knows that she wants to do this. Obviously, she'd just probably be like in the cafeteria or one of the school kids or something. They're talkin' about writing me a little bitty piece in it, and I'm gonna do it 'cause I wanna be a star to my daughter. And if I can get on Hannah Montana, then I'll be something."

Gretchen, who ended a long-term relationship more than a year ago, is still unattached, but she says she's perfectly content. "I am absolutely 100 percent by myself for the first time in my life, and I am enjoying it. My daughter is everything I want to do."
Gretchen says she and her 6-year-old daughter, Grace, are enjoying tickle sessions and watching their favorite shows together in bed. She also spends a night out with the girls every now and then.
As far as dating goes, Gretchen says she's rarely asked out. "Nobody ever hits on me," she says. "Seriously, for me to get a date, I would have to go to a bar and ask somebody out."
But Gretchen doesn't seem too interested in the bar scene. "I'm not attracted to too many men," she says. "Before I am attracted to someone physically, I have to know them first. I can't decide if a man is handsome until I get to know him."

For Gretchen, being a headliner is not only a big accomplishment; it's proof that she's not going anywhere for a while. She says, "What I'm getting out of [touring] is what I've always dreamed of. I mean, this is it. This is what I've been waiting for my whole life - to go out there and close the show and to know that everybody out there bought a ticket to come see me, not the band that is playing after me."

Gretchen's daughter, Grace, just might have what it takes to follow her mama in the music biz! After recording "I Don't Feel Like Loving You Today," Gretchen headed to a boot store with Grace. On the way, she popped the fresh recording in the car's CD player and played it. Gretchen recalls: "My daughter, as soon as it was over, said, 'I love that song, Mommy. And I thought, 'And so do I.'" Gretchen goes on to explain why she, herself, loves the song" "It's a great song. It's so real. It's a little different than stuff I usually like. It's such a real mood and a real moment. I think it's one of those songs that every woman in the world will be able to relate to and just feel...close to and feel like they've been there, or maybe they haven't been through it themselves but just know someone who has. It's a moving, moving song. My favorite line in that song is 'I've got 16 hours left to go.' That's the one that just, wheew. Ya know? It's another dark song. But it's very real; it's my favorite song on the record."

Gretchen defines European cuisine for redneck travelers. Instead of sampling the 4-star cuisine of Europe's capitals she could've put on her Sony expense account (she's not one for seafood or swanky restaurants), the redneck woman takes pride in the fact that she's eaten at McDonald's in every country in which she's set foot! And, that's the way them "redneck women" do it.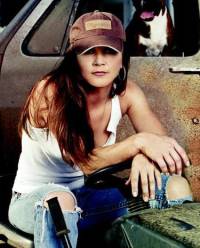 Did y'all know?
** After being told Here For the Party garnered more than TWO MILLION copies sold, an emotionally-moved Gretchen said: "This is a dream!! These are the things that your mom tells you is impossible as a kid. And, she's right; it's very damn well near impossible." Trust Gretchen to conquer the impossible. [NOTE: The album has continued to gain popularity among music fans; current tally has just passed the FOUR MILLION mark!!!! CONGRATS to country music's most popular "Redneck Woman" - you GO GIRL!!!!]

** Gretchen says her most "baddest heartache" is that her grandmother, Frances, passed away before Gretchen's daughter was born. Gretchen believes that her daughter Grace Frances Penner (who is named for the woman deemed most influential in Gretchen's life), was conceived the very day that Gretchen's grandmother passed on.

**Gretchen and six of her friends all have a #27 tattooed on her ankle. Asked if it hurt Gretchen said, "Are you kidding me? I've had a baby."

** Gretchen has been showing off her svelte figure in her last couple of videos, including her new clip for "Come to Bed," the first single from her upcoming new album, and the "California Girls" video from last year. Some fans are wondering if Gretchen is on some new exercise regimen, but she says she is on the same one that many moms are. "I've got a six-year-old daughter and I've got three stories in my house, so I bet I climb the stairs 50 [or] 60 times a day without even thinking about it," she says. "I don't go to the gym and I don't set out to run or to do anything like that, but I hardly ever stop."

** A little-known fact about the Here For The Party album is that Gretchen took many of the photos in the packaging. Not the photos of herself, but the shots of linoleum, bricks, paneling, carpet (shag) and the dryer are all her own work.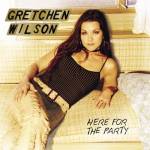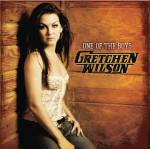 Where can I buy her music?
Purchase YOUR copies of One of the Boys, All Jacked Up, and Here For the Party by clicking on each respective CD cover!!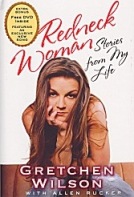 Gretchen has published her first book titled Redneck Woman: Stories From My Life!!!! This is an intimate look into the life of country music's most notorious "Redneck Woman"!! EXCLUSIVE DVD is included! Click on the book cover to purchase YOUR copy!!
Does she have an official site?