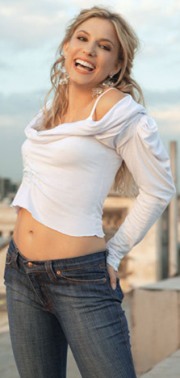 Who is she?
You might say Julie Roberts was one of Nashville's best-kept secrets! Actually, she was the one keeping the secret!! Originally from South Carolina, she moved to Nashville to attend and graduate from Belmont University. She then took a job as an assistant to Luke Lewis, who was Chairman of Universal Group Music Nashville. By day, she was a devoted employee; by night, she was playing at local clubs, all the while polishing her vocal chops and songwriting splendor. And what a voice she has!!
Though her lifelong dream has been to becoming a country recording artist ("I started singing to country songs on the radio when I was three") - and despite her close proximity to the people who could make that happen for her - she didn't let on. She says, "I needed to work and I was scared I was going to get fired if Luke knew. I knew my desire to be a singer was there, but I needed to be a devoted employee to him."
Fortunately for us, the secret would eventually be revealed. As fate would have it, Julie had worked with Brent Rowan on some demos. One day, Brent brought in some demos (including Julie's) for Luke to listen to. Upon hearing Julie's voice, Luke said, "I want to know who this is. I want to meet this girl." Brent told him, "It's the girl right down the hall. It's your assistant."
And so, he has. "Break Down Here," Julie's first single did well at radio; the same can be said about the video for it. Next single "Wake Up Older" was followed shortly by her debut album; the project quickly earned Gold status. Julie continues to astound audiences with her smoky. Now, aren't we glad we were finally let in on this fabulous secret?!

What has Julie been up to?
REQUEST "Men and Mascara" - at radios now!! Please continue to REQUEST all of Julie's previous singles!!

Get ready for Julie to take over Europe!!!! She will be performing at the 19th Gstaad Festival on the same bill as Rhonda Vincent, Riders in the Sky, and headliner Randy Travis!! The festival will be held in Gstaad, Switzerland on September 21st and 22nd which will mark Randy Travis' first performance in Europe in 18 years.

Julie has signed on as spokesperson for FUZE Healthy Infuzions Beverages. Fuze will be the title sponsor for many of Julie's performances throughout 2007.

Julie will never forget her 28th birthday. She celebrated the event last week in London during a performance as part of the Country Music Association's third annual "New from Nashville" tour.
Country Music Digest reports that after tour mate Jace Everett joined her onstage for a rendition of the Johnny Cash – June Carter classic "Jackson," he led the crowd in a rousing version of "Happy Birthday."
Julie continued celebrating by sharing cake and cocktails at the hip Royal Garden Hotel. In addition, the CMA gave her a gold Irish harp necklace from Dublin, where she performed on Monday. Julie says getting to celebrate her birthday in London as part of the CMA event was, "just awesome — the best birthday present ever!" The tour ended with a show in Glasgow, Scotland, on Saturday.

Julie's self-titled debut CD has now been certified Gold for half a million copies shipped and she's thrilled with the achievement!! "My biggest dream has come true," exclaimed Julie when told of the news while on the road. "I've dreamed of this day for so long and I'm just happy for the blessings I've been given and am thankful that I can celebrate this with my friends and family."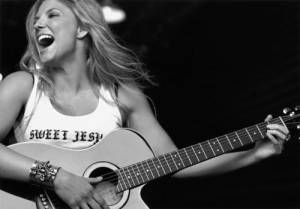 Did y'all know?!
*On changing her name*
When asked if she ever considered changing her name to minimize confusion w/ one Julia Roberts (the Pretty Woman actress), Julie says she couldn't really see herself walking down the street and someone yelling out "Hey Susan, I really LOVE your song!" She said she grew up being Julie and saw no reason to change it. So, she opted to keep her name.

*On making her debut on the Grand Ole Opry stage*
Julie says singing "Break Down Here" for most of her family at the Grand Ole Opry was a moving experience. "I had Mamaw and Papaw and my aunt and uncle and my little cousin. Had family, my sisters...and they wouldn't have missed it for anything, just 'cause I've told them my whole life that's what I wanted to do. But it was just awesome!"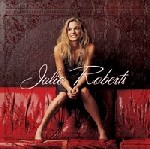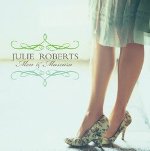 Where can I buy her music?
Both of Julie's debut albums are available for purchase by clicking on each respective CD cover!!


Does she have an official website?