By: Estella Pan
Chely Wright
Upwards of 1,500 avid fans gathered inside the Wildhorse Saloon for the 7th Annual Reading, Writing, and Rhythm benefit concert, held on Tuesday, June 5. All were there to celebrate the "lucky number 7" event filled with many smiles, laughs, and yes, tears, too! The evening's hostess, Chely Wright, also the founder of Reading, Writing, and Rhythm, were joined by a stellar artist lineup: Chris Young, Trent Tomlinson, Kellie Pickler, Danielle Peck, Emerson Drive, Mindy Smith, Taylor Swift, Keith Anderson, and Clay Walker – with surprise appearances from Tanya Tucker and Ty Herndon. In between performances, one-of-a-kind trips and items including a shopping spree with Chely, an autographed Martina McBride stage outfit, and "Seeing Stars" Fly-Away Packages to see Tim McGraw & Faith Hill, Reba McEntire, and Keith Urban (in separate concerts) were auctioned right off the stage. In addition, there was a silent auction in progress throughout the night.
Chely Wright enjoys fruits of her efforts
In a press conference preceding the show, Chely shared her joy of seeing the fruits of her labor from her program. "Just the giving is great. But, the letters are most fulfilling part." The letters continue to pour in from kids who were given musical instruments during the first years of her program's inception, and are now going to college on a music scholarship. A self-proclaimed "band geek" herself, Chely and her childhood friend, Donna Ford (the two are friends to this day), used to go door to door and "sell some crappy item," in order to raise enough money to put on a play in their school. "Kids shouldn't have to do that," she said. It was after watching the devastation of the Columbine shootings that she began putting her creativity into motion; fruition came in the form of Reading, Writing, and Rhythm, which she launched in 1999.

Chris Young
Chris Young, who held the honors for kicking off the evening, expressed his thoughts for participating in the event, "Being a musician, music isn't just my livelihood...it is what I love to do. When I was young, picking up an instrument made me happy. I want to help Reading Writing and Rhythm pass that [same joy] along to other children." Chris opened his set with "Beer and Gasoline" (his next single heading to radio soon!), then launched into his current single, "You're Gonna Love Me."
Trent Tomlinson
Trent Tomlinson offered a rocking set of his own, captivating the audience with his upbeat opener, "Drunker Than Me." He then launched into his current single, "Just Might Have Her Radio On." There was never a dull moment as Trent leaped all over the stage during the upbeat numbers. He even took a stroll through the aisles of the main floor, shaking hands with several audience members. Trent dedicated his performance of "One Wing in the Fire" to his father, also the person who inspired the song, and then closed with the title track to his debut album, "Country Is My Rock."






Kellie Pickler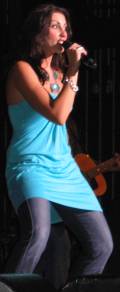 Danielle Peck
Hot on Trent's heels were American Idol, season five alumnus, Kellie Pickler, and Big Machine recording artist, Danielle Peck. Overcome with emotion, Kellie burst into tears singing the last line of her autobiographical hit, "I Wonder." She wrote the autobiographical tune about her mother. After singing "Red High Heels," Kellie took a few moments to auction off her favorite pair of high-heeled shoes! (They fetched a cool $26,00!) "You guys don't understand! These are my favorite pair! I wore them every night on the Brad Paisley tour." Closing with her rousing rendition of "9 to 5," Kellie paid tribute to her own idol, Dolly Parton.

Danielle Peck shined in the spotlight, dressed in a stunning outfit from one of the event's sponsors, Flavour, she charmed the crowd with "Findin' a Good Man" and "Isn't It Everything." She then introduced her newest single, pondering why all the things that feel so great are "Bad For Me."
As soon as Emerson Drive stepped on stage, an eruption of cheering dominated the venue, bringing fans on their feet. Their set list was a wonderful mix of energetic tunes, including "A Good Man" and "Countrified," as well as their rousing rendition of "The Devil Went Down to Georgia" thrown in for good measure! During their lively set, Chely took a few minutes to toast the band for their very first number one single, "Moments" [NOTE: The song sat at the top of the charts the week of this benefit concert.] After the toast – complete with champagne to each band member, their record label and publicity team – Emerson Drive delighted fans by singing their newest hit!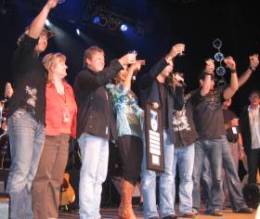 Emerson Drive celebrates their first #1 hit, "Moments"!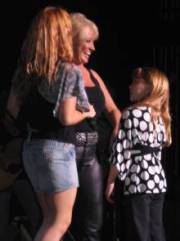 Tanya w/ daughters Presley and Layla
Tanya Tucker entertained with well-known hits, including "Some Kind of Trouble" and "Delta Dawn." She also introduced her two daughters and fellow co-stars on "Tuckerville" (her television show on TLC): Presley and Leila. An aspiring singer herself, Presley joined mom on stage for a mother-daughter duet.
Taylor Swift
Being included in this event was especially meaningful for Taylor Swift. "This not my first time being here. This is my third time that I've been in attendance. For two consecutive years, I sat in the audience and watched this show from a seat way up in the balcony." As Taylor graced the stage in white dress, matching cowboy boots, and her guitar, she serenaded fans with acoustic versions of "Tim McGraw," along with fan favorites "Teardrops on My Guitar" and "Pictures to Burn." She also shared her personal testimony for how much music has impacted her life. "Last year, I was a sophomore at Hendersonville High School and music is why I didn't dabbled in alcohol for fun and never have. So, I can tell you that this charity is truly making a difference. Music is such an escape for me and I think every student deserves that in his or her life."
Performances from Clay Walker, Keith Anderson, Ty Herndon, and Chely capped off a musical extravaganza that brought in over $185,000. This is a record breaking figure, exceeding the amounts raised in past events. Chely remains diligent in organizing top-notch annual events. She says, "We take pride in inviting the hot and current 'big' stars year and again." But, more importantly, Reading, Writing, and Rhythm, the organization as a whole, remains assiduous in upholding their commitment to raise funds and awareness so that more and more children can enjoy the benefits of enriching their lives with music.