Taya Lear's "big break" came after winning the B95 Country Karaoke competition in May, 2003. Shortly after, she recorded her debut album in Nashville!! Listen for her name to be "big" soon!!
Meet Taya:
As part of winning the karaoke competition, Taya had the opportunity to sing in front of thousands in June of 2003 - she co-headlined with fellow Michiganders The Forbes Brothers and Marcel, as well as Craig Morgan, Steve Holy, AND Aaron Tippin!!
Taya's talent brought her to Nashville, where she recorded and released her debut album Lost in the Desert in 2004. She is currently working on her followup to her debut album. It will included a duet she recorded with Daryle Singletary (who had hits with "Too Much Fun," "I Let Her Lie," and "Amen Kind of Love.") While Taya continues to win local singing competitions, she's got her eyes set on Nashville! With her voice and her dreams in tow, there's no doubt she'll be the next big thing in Music City!
Talkin' to Taya:
Taya's NEW the new single "Faint Of Heart"/"Redneck Wedding" is in the works, and Taya says, it sound "really terrific thanks to my great producer's Gary and Seth." It is scheduled to finish in November.

Post YOUR thoughts on Taya's messageboard! Taya says, "I am VERY grateful for all the new friends I have met at [my] messageboard! Stop by and say hi if you get a chance." (Tell her Estella refered you to the board when you register. That way, she knows who's doing the work - JUST KIDDING!!) :)

You can now purchase your very own "Lear Gear"!! Just visit Taya's website to do so (link is below)!! (You can choose from a variety, including her CD, poster, and MORE!! Plus, you can have your "Lear Gear" AUTOGRAPHED - just specify on the order form!!)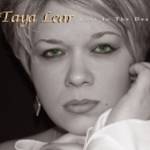 Listening in:
You can purchase YOUR copy of Taya's
Lost in the Desert
CD right on her website!!
Click on the following banner for more info on Taya and to join monthly contests for awesome prizes: