The Forbes Brothers are a seven-member band based out of Detroit, Michigan.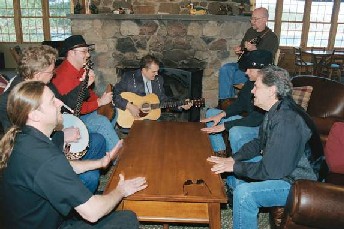 The Forbes Brother in Fine Form:

The Forbes Brothers are: Scott (guitar and vocals) and Dennis Forbes (guitar and vocals), Ronnie Jacobs (vocals and harmonica), George Canterbury (keyboard), Tom Hollyer (guitar, banjo, mandolin, dobro), Jon Ross (bass and vocals), and Dave Jack (drums). They've been rocking for almost 12 years. Their unique style has garnered them a whopping 25 Detroit Music Awards, including, but NOT limited to: Outstanding Country Songwriter, Outstanding Country Instrumentalist, and Outstanding Recording (for their first album, Learning to Live).
Their crowd-pleasing "Hip Hop Country Rock" describes their sound perfectly: "Hip hop country rock, blue-eyed soul, and rock 'n' roll, mixed with a little blues..." With titles like "Wrong End of the Bar" and "Change Your Attitude or Change Your Address" on their current CD, it's no wonder why The Forbes Brothers have become one of Michigan's favorite bands!
The Latest on The Forbes Brothers:

Check out TFB at Boomer's Roadhouse on Sunday, February 25!!!! Show begins at 5pm, and it's a benefit event. Boomer's is located at 6650 Highland Rd (M-59) in Michigan. (between Williams Lake Road & Airport Road in Waterford, next to the Oakland County Airport)

If you're in the area, TFB would love it if y'all would come out and catch their shows!!

TFB's current album, Wrong End of the Bar, is now available at FYE stores at the following locations:
1) Courtland Center AND Genesee Valley Center in Flint
2) Fashion Square Mall in Saginaw
3) Bay City Mall in Bay City
4) Great Lakes Crossings in Auburn Hills

The album is now available at selected Target AND WalMart stores!! Also, y'all can purchase copies from their official site (link is below) and online at: CDBaby, Amazon, Borders, AND Tower Records

You can DOWNLOAD mp3 files of ANY songs off their latest album for just 99 cents each!! Check out their official site for links to do that. Downloads also available at: I-Tunes, MusicMathc, AudioLunchbox, Rhapsody, and more!!



Musically Speaking:

Make sure to pick up YOUR copy of The Forbes Brothers' The Wrong End of the Bar album - click on the CD cover to do so!!!! (While you're at it, pick up a couple copies for your family members and friends!)





Check out their official site for MORE on The Forbes Brothers: