By: Estella Pan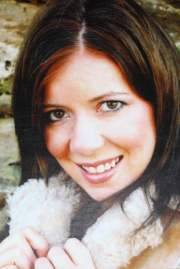 Nickia Blythe is the new voice of country music. At 23 years old, she's been taking notes from fellow Kansan, Martina McBride, and has developed the skill of conveying emotions through voice to her listeners. She says, "As soon as I was able to talk, I always said I was going to be a country singer. It has always been my dream." Through years of "singing Dolly Parton and Kenny Rogers songs" and being influenced by the likes of Martina as well as Reba McEntire, Nickia's passion for music only became stronger. "I knew [many] songs by heart and I would sing and sing and sing ...and make everyone listen to me! I always had this burning feeling in my heart to pursue this career, but I needed a little push and someone to believe in me."

Two people who believed in her and her dream were Nickia's grandparents. "My grandparents have given me so much strength. From the time I sang Dolly's songs to now, they believed in me. When I was younger, they took me to DollyWood; they gave me that as my ray of hope. My grandpa always told me to keep writing Dolly letters and one day I'll get the chance to meet her." That meeting hasn't come yet, but Nickia says, "I can feel it's within reach now." She reminisces about her musical childhood days: "I would ride with my grandpa to the ranch every Sunday afternoon to check cattle. He would always let me turn on the radio, so I could sing to the cattle, and he just smiled. I remember a time when my grandma came along with us. I sang the whole way there. Those where the good ole days!" She remembers how her grandmother was playing with her hair when she told her husband, "Isn't it amazing how Nickia knows every word to every song on the radio?" Her grandfather's reply was, "Yes, she'll make it herself one day!" Nickia says, "I pretended to sleep but I heard every word. I don't know if they ever knew that I heard them say it. I'm sure they have forgotten that conversation. But that's all I needed to hear. And because my grandparents are by my side, I know I'll make it!"

Confidence and believing in herself have led Nickia to persevere and step closer to achieving her dreams. However, a very different side of her inner being is not often revealed. "I come across as a strong person. I show a tough love exterior. But truth be told, I don't like for people to know what my real emotions are; I don't like to let people see me cry or break down." She confides, "But really, if you let me, I will give you every emotion I have and all my weaknesses." Through music, she is able to express those untold emotions. For Nickia, it is not merely a means for enjoyment; it has served as a vehicle for daily comfort for an all too real hardship she currently lives with: saying goodbye to her husband as he left for Iraq. "Because my husband is a Marine, he has a duty to his country and Corps. I stand by him. Being a Marine's wife, you are always letting go and facing the reality of Will my husband make it home alive? You learn to go about your business and everyday life like it's easy. People tend to ask, 'How do you hold it all in? How is this so easy for you?'" Nickia will be the first to tell you that her reality is not as easy as she might make it look. "It's hard to plan a funeral for your husband before he deploys to war, because you pray to God that you'll never have to actually go through with it. It's the scariest experience in the world. It's hard to fall asleep at night. I cry ALL THE TIME!" She says one particular song has helped her face a day at a time. "SHeDAISY nailed it on the head with their song 'Come Home Soon.' I don't want to cry alone, walk alone, or die alone."

Nickia's own song, "Hold On," the title cut off her debut album, expresses similar sentiments. Fittingly, the video for it captured the gripping fear and uncertainty of the unknown that she has come to know all too well. "It is basically me waiting and worrying about my husband who is in Iraq. I'm spending yet another lonely night wondering where he is and of course, I turn on the TV and they show the war. It's a heartbreaking video that shows so much depth into a life of a military wife." Despite this very big change in her life, Nickia chooses to maintain a positive attitude toward the situation – and for any hardships, in general. "There is nothing that we experience where we can't see the good out of it. I'm proud of who I am and what I've been through. Had I not had the opportunity, yes, I said opportunity, to experience those hard times in life, I would not be so blessed to live a happy life and follow my dreams."

In November, Nickia released her debut album, Hold On, and in choosing songs, she looked for ones that embodied honesty. "I'm drawn to songs that have real, raw emotions. I like the songs that you can listen to and say, Yeah I've been there. I like songs that grab your attention to where they you have to feel alone or lost anymore." Nickia is currently working on her new album and she promises much of the same, in terms of the types of songs that will be included. "I like the passion and the honesty of a song – the truth in it, good or bad. I am a person who has a difficult time expressing my thoughts in words; I need a song to do that. So, I find songs that say what's in my heart – songs that, if I could have written them, that's what I would write. I have been through many things other people have [been through] as well; I am just lucky enough to be able to speak out through music." The kickoff single from the forthcoming album will be "Say Goodbye." Filming for the video will commence next month.

Besides music, laughter has always played a crucial role in Nickia's life, and she confesses that she is a notorious prankster! "I love to have fun! I don't like to take life seriously, so at any moment when a prank can be pulled, I do it! I would rather laugh then cry. Who wouldn't?" As for the best one she's ever pulled on an unsuspecting individual, she warns, "I don't know if I've reached my best one to date!" Now holding a degree in Elementary Education, she enjoyed plenty of laughs during her days in the college dorms. Her friends even joined in on creating harmless fun for each other! She says, "There was a group of us girls and a group of guys who were always battling it out. We put shaving cream and whip cream at the bottom of their beds and in their shoes. We had community showers so we would sneak in and steal their clothes and towels. We would rearrange furniture so it was backwards. I have helped take tires off of my friends' cars and set their cars on jacks." The one that takes the cake, though is this: "I have put Kool Aid in shower nozzles so when they turned their showers on, a stream of red or green would come out." It's all done in good harmless fun, and she says, "I love having fun! I can give it but I also crack up when it is done to me. I'm a very good sport!"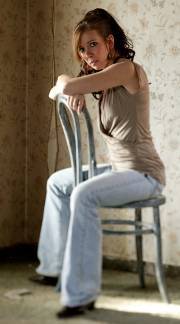 What song that you've recorded would you say describes you the best?
Nickia: Every song on my album has a story behind it, and each song describes me in different ways. I am [currently working on] two songs for the new album that probably describe me the best. One is called, "Say Goodbye." It talks about wanting to live a dream and have a life for myself but the only person standing in my way is me. So I'm telling those around me to say goodbye to the girl they use to know and hello to a new woman: a woman with strength, honesty, and conviction. The second song is called, "Take Me To The Truth." I fell apart when I heard this song. It was a song that grabbed me from the first word clear to the last; every ounce of the song is me. It talks about not wanting to live this lie anymore. Not just being someone else who pretends that things are okay when they are not, but for THAT person to take ME to the truth. There is honestly so much truth in this song – more than words can say!

Who has been the most influential to you, musically?
Nickia: Chely Wright has influenced me greatly. I listen to her songs and hear a real person trying to matter. Her voice and conviction is so amazing. In each of her songs, you can hear the passion, hurt, joy, pain, and tears; you can see her heart. I set myself up to stand next to her. I want people to hear my heart like they do Chely's.

You studied dance in college and later were a dance coach for a few years. How has those experiences prepared you in what you're doing today?
Nickia: I worked hard in dance. That was my passion and life for four years nonstop. Dance is hard work; I put in hours of sweat, pain, and tears into dancing. Sometimes you came out on top and sometimes you fell, literally. It's the picking yourself back up that matters. It's the work you put in and the failing that you look back on and are proud of where you are at now. I needed dance at that time. I was struggling with who I was as a person. It was my way to let out any aggression. I battled with the constant reminder throughout high school on how skinny I was. Dance was a sport where I actually had people envy me and my body. I needed that to encourage me to try – to not give up on myself. I looked back and saw all the hurdles I had to jump over and finally reach a goal. Now I'm comfortable in my own skin. I'm proud of who I am. Through dance, I've been on a roller coaster ride. I have had the good times along with the bad. I had those moments of wanting to quit. And it's those times that have pushed me to sing. Those experiences have given me reasons and all the proof that I need [to know] that I can achieve whatever goal is in front of me. Bring it on!